Barlow Banks Tour Event At California Billiard Club
filed on Monday, March 22, 2010. 11:04am PT/USA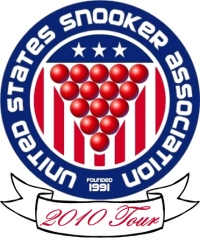 The twice United States National Snooker Championship semifinalist, Andrew Barlow, has won Event 3 of the 2010 United States Snooker Association (USSA) Tour, sponsored by Aramith Billiard Balls and Strachan West Of England Cloth, with victory at the California Billiard Club in Mountain View, California.
Barlow was a winner on last year's inaugural Tour, and secured his second Tour Event title with a 4-0 success over last year's United States National Snooker Championship runner-up, Ajeya Prabhakar.
Prabhakar, who also serves as the USSA's president, has now lost in all three finals that he has played in on the USSA Tour, and was defeated by Barlow by the same scoreline in the final of Event 5 on last year's Tour.
Barlow and Prabhakar finished first and second respectively in in the round-robin play of Group A, and were paired in the semifinals against the winner and runner-up of Group B, Bob Jewett and Chris Zhou.
In what proved to be very one-sided semifinal encounters, Barlow and Prabhakar overpowered Zhou and Jewett 3-0 respectively.
Barlow, who is originally from England though has lived in the United States for several years, also claimed the highest break of the Tour Event with a run of 57.
The USSA would like to thank the California Billiard Club for again supporting the USSA Tour.
Winner of Event 3 of the 2010 United States Snooker Association Tour,
Andrew Barlow (left) pictured with runner-up Ajeya Prabhakar
Photo © SnookerUSA.com
For the whole Tour schedule and entry details please click on the following link:
»
2010 USSA Tour entry details