USSA Adopts New Eligibility Rule
filed on Sunday, May 9, 2010. 9:00am PT/USA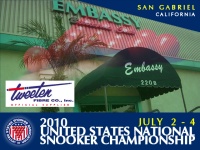 In view of a clarification of a ruling which the United States Snooker Association (USSA) has received from the International Billiards & Snooker Federation (IBSF), the USSA has decided to adopt with immediate effect a new eligibility ruling for players wishing to participate in the United States National Snooker Championship.
All "citizens" of the United States are eligible to compete in the United States National Snooker Championship, though previously the USSA only permitted "legal residents" who had lived in the United States for a minimum continuous period of three years.
According to Rule 2.4 of the IBSF Championship Conditions, the IBSF will permit any "legal resident" of a nation to represent that particular nation in an IBSF Championship, as long as that player has not represented any other nation in an IBSF Championship in the three previous years.
This new ruling will come into force for players wishing to enter this year's United States National Snooker Championship, which will take place at the Embassy Billiards Club in San Gabriel, California, from July 2 - 4.
Alan Morris, the Executive Director of the USSA, said: "In the United States we have a large proportion of snooker enthusiasts who are legal residents from nations all around the world.
"We decided to adopt this new rule with immediate effect in order to allow these new players, provided they have not competed in an IBSF Championship for another country in the last three years, the opportunity straight away to compete at a national level in their new adopted country."
Interested participants can now register to receive the Championship Information & Entry Form document, which will be sent by e-mail to your registered e-mail address:
» Register here