Boon In A Swoon At Shoreline Tour Success
filed on Tuesday, May 11, 2010. 1:58pm PT/USA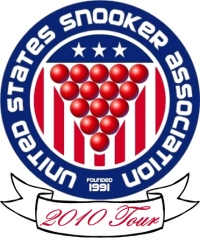 Former Singapore National Snooker Champion, Keith E. Boon, has won the sixth and final event of the 2010 United States Snooker Association (USSA) Tour, with victory over Ajeya Prabhakar in the final at Shoreline Billiards in Mountain View, California.
Boon, whose notable past achievements on the international snooker stage include compiling a maximum 147 break in the 2006 IBSF World Snooker Championship and being runner-up to China's Ding Junhui in the 2002 Asian Snooker Championship, would have gone into this tournament as favorite however Prabhakar put up stern opposition in the final.
Prabhakar, a former United States National Snooker Champion and runner-up in last year's Championship in New York, won the first frame of the final and was all set to take a 2-0 advantage but missed with two red balls remaining while on a run of 37.
Boon then stepped in to win the frame on the final colored balls to level the match at 1-1, and he was then in the zone as he secured the next two frames with respective breaks of 87 and 67.
In the fifth frame Boon got in first with a 51 break before offering an opportunity to Prabhakar, but he could not capitalize after sitting out the previous two frames as he only accumulated 21 points. Boon then cleared to the final blue ball to win the frame and wrap up the final with a 4-1 victory, and inflict Prabhakar's fourth successive defeat in a USSA Tour event final.
Winner of Event 6 of the 2010 United States Snooker Association Tour, Keith E. Boon (right)
pictured with runner-up Ajeya Prabhakar (left) and Jerry Leo, the manager of Shoreline Billiards
Photo © SnookerUSA.com
In the semifinals Boon defeated the winner of Tour Event 3 at the California Billiards Club, Andrew Barlow, by a scoreline of 3-1, and Barlow claimed the highest run of the event with a break of 92. Meanwhile Prabhakar had an easier passage to the final with a 3-0 success over Amit Karki.
All semifinalists came through their quarterfinal ties in a comfortable fashion as Boon defeated Ivan Chen 3-0, Prabhakar overcame Fan Ru 3-0, Barlow scored a 3-0 success over Alan Kam, and Karki advanced with a 3-1 win over Sum Goushen.
Jerry Leo, Ajeya Prabhakar and Keith E. Boon pictured outside of Shoreline Billiards
Photo © SnookerUSA.com
The USSA would like to thank Jerry Leo, the manager of Shoreline Billiards, for his continued support in hosting what proved to be a very high-quality and successful 2010 USSA Tour Event that captured the attention of many curious pool players.
With the conclusion of the 2010 USSA Tour, the USSA would like to thank Aramith Billiard Balls and Strachan West Of England snooker cloth, the room owners for their invaluable cooperation and to the players for making each event and the season yet another great success.
Details for the 2011 USSA Tour will be released once they become available.