2010 United States National Snooker Championship Group Draws
filed on Thursday, July 1, 2010. 10:39pm PT/USA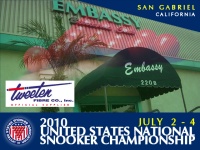 The group draws for the 2010 United States National Snooker Championship to be played at the Embassy Billiards Club in San Gabriel, California, from July 2-4, have been made.
The twenty-six entrants in this year's Championship have been drawn into six groups, with each group headed by one of the six seeded players and the rest of the participants drawn at random.
The number one seeded player is the defending champion Ahmed Aly El Sayed, who captured the title at the Prince Snooker Club in Brooklyn, NY, last year.
The top two players from each group will advance into the round of 16 in a predetermined position in the knockout stage, with the third place players from each group going into a random draw in the knockout stage.
Two of the third place players will be randomly drawn directly into the round of 16, with the four remaining third place players being randomly drawn to play two preliminary round matches. The winners of those two preliminary round matches will advance into the round of 16.
Group A
Code
Player
A1
Ahmed Aly El Sayed (New York) 1
A2
Pravin Patel (Texas)
A3
Wayne Tang (Arizona)
A4
Tim Lee (New York)
A5
Chen Yan Jun(New York)
Group B
Code
Player
B1
Jian Qiang Wang (New York) 2
B2
Alex Kopel (California)
B3
Steve Lucas (California)
B4
Cheang Ciing Yoo (Washington)
Group C
Code
Player
C1
Raymond Fung (New York) 3
C2
Tony Annigoni (California)
C3
Sim Lim (California)
C4
Romil Azemat (Arizona)
Group D
Code
Player
D1
Ajeya Prabhakar (California) 4
D2
Laszlo Kovacs (New York)
D3
Michael Chang (California)
D4
Yi Fei Mei (California)
Group E
Code
Player
E1
Tom Kollins (Illinois) 5
E2
Sridhar Shrinivasan (Pennsylvania)
E3
Zhen Yan Y. (California)
E4
Paul Chao (California)
Group F
Code
Player
F1
Henry Wong (New Jersey) 6
F2
Tommy Chen (New York)
F3
Ng Guo Ning (New York)
F4
Ernst Bezemer (Texas)
F5
Marlin Li (New York)