2011 USSA Tour Details Announced
filed on Tuesday, January 25, 2011. 12:32pm PT/USA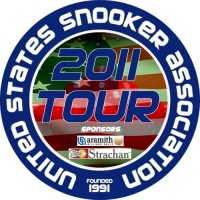 Two new events have been added to the 2011 United States Snooker Association (USSA) Tour with the probability of at least one more being included, as the USSA releases the schedule for the third annual Tour which will feature the continued sponsorship of two of the leaders in the snooker industry, Aramith Billiard Balls and Strachan West Of England snooker cloth.
The 2011 Tour season will consist of at least six events to be played over the first half of the year.
The Prince Snooker Club in Brooklyn, New York, which is a regular host on the Tour and staged the United States National Snooker Championship back in 2009, will host the first event from February 26-27.
The newly established Ace Snooker Club in San Mateo, California, will make its debut on the USSA Tour as it will host Event 2 from March 26 & 27.
The Las Vegas Cue Club which will host Event 3 on the 2011 USSA Tour
The Tour will then make its Las Vegas debut for Event 3, as the largest billiard room in the city, the Las Vegas Cue Club, will stage their first USSA event from April 2 & 3. The former Canadian professional snooker player, Jim Wych, who now resides in Las Vegas has been instrumental with the installation of the Championship standard snooker tables in the billiard room, and looks forward to the development of the sport and further snooker events in the entertainment capital of the world.
Event 4 will then move back to Brooklyn in New York as over the weekend of April 9 & 10, the Top 147 Snooker Club will welcome back the USSA to host its second ever Tour Event.
Shoreline Billiards in Mountain View will then bring the USSA Tour back to California over April 23 & 24 for Event 5, with the billiard room being an ever present supporter of the Tour.
The California Billiard Club also continues its ever present support as a Tour host, as the USSA Tour stays in Mountain View for Event 6 over May 14 & 15.
The USSA is expecting to add at least one further event to the 2011 USSA Tour, which demonstrates the growing interest in competitive organized snooker in the United States.
For the eligibility rules please refer to SnookerUSA.com's 2011 USSA Tour Schedule & Results page, where also entry details for each of the Tour's events can be downloaded.