Prabhakar Picks Up First USSA Tour Event Title
filed on Monday, March 28, 2011. 10:44am PT/USA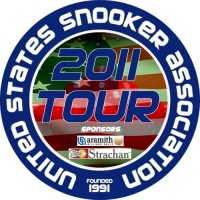 The former United States National Snooker Champion, Ajeya Prabhakar, has picked up his first United States Snooker Association (USSA) Tour event title, sponsored by Aramith Billiard Balls and Strachan West Of England snooker cloth, with victory at the ACE Snooker Club in San Mateo, California.
Prabhakar, who won his National Championship title back in 2000, faced the former professional pool player Tony Annigoni in the final of the ACE Snooker Club Tournament USSA Tour event after a weekend of friendly natured but highly competitive play.
A closely fought first frame of this best-of-seven-frames final ensued as Prabhakar, who also serves as the President of the USSA, won it on the final black by 61 points to 54.
From then on however, Prabhakar showed his greater experience on the snooker table as he comfortably secured the following three frames, assisted by respective runs of 39, 42 and 41, to seal a comprehensive 4-0 victory.
Winner of Event 2 of the 2011 USSA Tour, Ajeya Prabhakar (pictured second right)
with the runner up, Tony Annigoni (pictured second left), and the co-owners of the
ACE Snooker Club, Alan Kam (pictured far left) and Eric Ng (pictured far right)
Photo © SnookerUSA.com
Prabhakar initiated his route to the final by gaining second place in Group A with two victories and one tied match, but he then cruised passed Rudy Vigil 3-0 in the quarterfinals and then overcame Ivan Chen 3-1 in the semifinals, who he tied with in the group but Chen was awarded top place due to his higher break.
Annigoni also advanced into the quarterfinals by virtue of his runner-up spot in Group D, but he went onto defeat the Group B winner, Alex Kopel 3-0, and came through the semifinals with a 3-2 success over the winner of his group, Zhi Ming.
Zhi had earler come through a tense quarterfinal battle against Alan Kam, runner-up in Group B and one of the the co-owners of the ACE Snooker Club, that went down to the final black in the final frame.
The remaining quarterfinal was contested between Chen and Group C runner-up, Steve Lucas, which ended in a routine 3-0 victory for the Group A winner.
The USSA would like to offer its thanks to Alan Kam and Eric Ng, the co-owners of the ACE Snooker Club, for hosting their first USSA Tour event which was played in the most wonderful spirit amongst its participants.
The USSA Tour will make its debut in Las Vegas for the next event, which takes place at the Las Vegas Cue Club over the weekend of April 2 & 3.
For the whole 2011 USSA Tour schedule and entry details please click on the following link:
» 2011 USSA Tour details