Bay Area Snooker Open Set To Entertain
filed on Thursday, April 14, 2011. 1:54pm PT/USA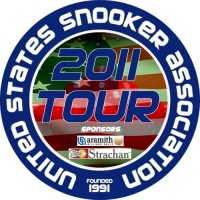 E-1 Entertainment in San Leandro, California, is all set this weekend of April 16 & 17 to host the Bay Area Snooker Open, which is Event 5 of the 2011 United States Snooker Association Tour (USSA), sponsored by Aramith Billiard Balls and Strachan West Of England snooker cloth.
This brand new Tour event to be played at a new snooker club which opened back in February of this year, brings the total of USSA Tour events in the Bay Area of California this year to four, demonstrating the ever growing interest in the sport in northern California.
At present, E-1 Entertainment has eight BLP high quality snooker tables, which are manufactured by the Taishan Biaoli Billiard Sports Equipment Company based in Taishan City in the Guangdong province of China.
Enthusiastic snooker players enjoy their game at E-1 Entertainment, which
will host the 2011 Bay Area Snooker Open, Event 5 on the 2011 USSA Tour
Photo © SnookerUSA.com
However the owner, who has ambitious plans about the development of the sport in the area, is looking to expand the number of tables to eighteen later this year, by utilizing more space which is available in a back room of the huge facility that houses his club.
Also to demonstrate his commitement to the sport in his area, he is looking to open yet another large new snooker club in Oakland, which is a short drive to the north-west of San Leandro.
This is surely to be an exciting new event on the USSA Tour, and the USSA would like to thank E1-Entertainment for their support and commitment to the Tour, and to wish all the participants the very best of luck to what should be a great weekend of snooker in the Bay Area of California.
For the whole 2011 USSA Tour schedule and entry details please click on the following link:
» 2011 USSA Tour details