USSA Tour Welcomes Champions Snooker In Houston
filed on Thursday, May 5, 2011. 9:36am PT/USA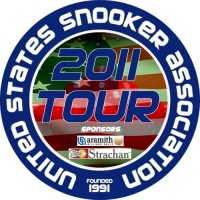 SnookerUSA.com is pleased to announce the opening of Champions Snooker, a new snooker club located in Houston, Texas, and along with it the Champions Snooker Tournament 2011, which will be Event 9 on the 2011 United States Snooker Association (USSA) Tour, sponsored by Aramith Billiard Balls and Strachan West Of England snooker cloth.
Much work has gone into the establishment of Champions Snooker in order to cater for the growing numbers of local snooker enthusiasts in the city of Houston.
The owner has informed SnookerUSA.com that he will initially start with three snooker tables, having installed BCE tables manufactured in England covered in Strachan West Of England 6811 snooker cloth.
The front entrance to Champions Snooker
Not only does Champions Snooker have snooker on the menu, as it is also a restaurant offering Indian and Pakistani cuisine.
To celebrate the opening of Champions Snooker, the owner was exceptionally keen to bring a USSA Tour event to his establishment and is expecting a high number of participants.
A view from inside Champions Snooker
The Champions Snooker Tournament 2011 USSA Tour event will be contested from May 27-29, but will be played using a different format from others used on Tour this year as players will be competing in a double elimination event.
The double elimination format is unusual in snooker, however with the short best-of-three frame ties, players will not be under so much pressure to win their first match.
For entry details of this Tour event and for details on the 2011 USSA Tour, please click on the following link:
» 2011 USSA Tour details