Prabhakar Pots His Way To USSA Tour Treble
filed on Tuesday, May 17, 2011. 9:02pm PT/USA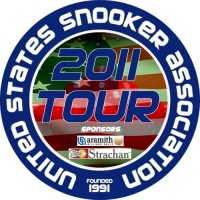 Ajeya Prabhakar has picked up his third title on the 2011 United States Snooker Association (USSA) Tour, sponsored by Aramith Billiard Balls and Strachan West Of England snooker cloth, by winning Event 7 at the California Billiard Club in Mountain View, California.
The former United States National Snooker Champion has dominated this year's Tour events played in the Bay Area of California, with victory in Event 2 at the Ace Snooker Club in San Mateo, a runners-up spot in Event 5 at E-1 Entertainment in San Leandro, and success at the start of this month in Event 6 at Shoreline Billiards also in Mountain View.
The 2011 California Billiard Club Snooker Classic also included the entry of Deo Alpajora who defeated Prabhakar in the final of Event 5 last month, but Prabhakar was completely in command of this event.
In this best-of-five frames final he faced Alex Kopel and took the first frame on the final colored balls assisted with a break of 33, but Kopel got back on level terms by securing frame two.
Winner of Event 7 on the 2011 USSA Tour, Ajeya Prabhakar (pictured right), with the runner-up, Alex Kopel (pictured
center), third placed Bob Jewett (pictured second left), and the owner of the California Billiard Club, Chris Swart
Photo © SnookerUSA.com
Prabhakar, who won his United States National Snooker Championship title back in 2000, sealed the following frame and then claimed a 3-1 success helped by a fourth frame run of 33.
Bob Jewett gained third place after he defeated the other losing semifinalist Steve Lucas in a playoff.
The USSA would like to give its thanks to all the participants of this Tour event, and also to the California Billiard Club for their continued support in hosting a USSA Tour event on their Riley snooker tables.
The USSA Tour now goes back to Las Vegas for Event 8 which is to be staged at the newly established 4 Kaz Snooker Club & Bar over the weekend of May 21 & 22.
For the whole 2011 USSA Tour schedule and entry details please click on the following link:
» 2011 USSA Tour details