Girdpool Gains Las Vegas Snooker Double
filed on Monday, May 23, 2011. 3:13pm PT/USA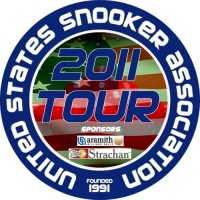 Joe Girdpool has clinched a Las Vegas double on the 2011 United States Snooker Association (USSA) Tour, sponsored by Aramith Billiard Balls and Strachan West Of England snooker cloth, by following up his victory in Event 3 with success in Event 8 at the 4 Kaz Snooker Club & Bar.
Girdpool took the USSA Tour event staged at the Las Vegas Cue Club in April and so was determined for success at his own new snooker establishment in the city, hosting its first event on the USSA Tour.
Alongside the local competitors, which included the co-owner of the 4 Kaz Snooker Club & Bar, Piya Potanan, who was runner-up in the 1996 United States National Snooker Championship, was a group of snooker players from Texas who made the journey to Las Vegas in preparation for Tour Event 9 to be played at Champions Snooker in Houston.
The players were divided into two groups of round robin play with the top two advancing into the semifinals.
Winner of Event 8 on the 2011 USSA Tour, Joe Girdpool (pictured right), with the runner-up, Muzlim Sarfaraz
Photo © SnookerUSA.com
Girdpool fought a very difficult path to reach the final as he finished runner-up in Group B after losing in the group to Chris Sheerin who claimed top spot.
In the semifinals Girdpool then faced Henry Nogiec, who won Group A, and after initially falling 2-0 behind he amazingly hit back to claim three straight frames to eliminate the owner of the Las Vegas Cue Club 3-2 and book his place in the final.
In the other semifinal, Sheerin, a Las Vegas resident who learnt to play snooker back in his native England, was narrowly edged out 3-2 by the Group A runner-up, Muzlim Safaraz, who was one of the contingent of players from Texas.
After struggling his way through to the final, Girdpool found his form and produced breaks of 32, 38 and 42 in comfortably defeating Safaraz 3-0 to take the Tour event title.
The USSA would like to give its most sincere thanks to Joe Girdpool and Piya Potanan, the co-owners of the 4 Kaz Snooker Club & Bar, and to all the participants for their kind support for this new event on the USSA Tour.
The newly established Champions Snooker in Houston, Texas, will play host to Event 9, which will be the final event on the 2011 USSA Tour played from May 27-29.
For the whole 2011 USSA Tour schedule and entry details please click on the following link:
» 2011 USSA Tour details