Kopel Back In California After European Snooker Venture
filed on Monday, June 27, 2011. 10:40am PT/USA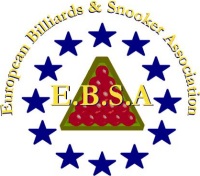 Alex Kopel has returned home to California after his trip to the Bulgarian capital of Sofia to represent the United States in the 2011 European Snooker Championships, and here he offers some of his thoughts and experiences in an interview to SnookerUSA.com.
31-year-old Kopel, who jumped at the invitation he received from the United States Snooker Association (USSA) to compete in order to gain some invaluable international snooker experience, was drawn in Group E of the Men's Event alongside Kristján Helgason (Iceland), Andreas Ploner (Austria), Roey Fernandez (Israel), Michael Leslie (Scotland), Andrei Orzan (Romania), Vladimir Kalinovski (Belarus) and Bratislav Krastev (Bulgaria).
The start of the trip was a bit rough as Kopel explained: "I picked my cue case up from the baggage claim and it looked like it had been run over by a truck!
"Luckily only the case and the plastic cue extension were badly damaged, but had a fun time before my return trip asking various Bulgarians if they understood 'big piece of bubble wrap'!"
Alex Kopel pictured in action during the 2011 European Snooker Championships
Photo courtesy of Janie Watkins / EBSA
Kopel's experience at the Championships though was thankfully much happier. He said: "Everyone involved was very organized and friendly, especially tournament directors Maxime Cassis and Oleg Velinov. The referees were super cool as well, and I met Vladimir Sinitsin, who commentates on all snooker broadcasts for Eurosport Russia.
"The tournament room included 13 Riley Imperials which played nicely, but a bit slow as the room was somewhat humid. However the Riley Aristocrat tables used in last year's United States National Snooker Championship at the Embassy Billiards Club are still the tightest pockets I've played on."
Kopel then commented on his Group opponents: "My first four opponents, Mike Leslie, Roey Fernandez, Kristján Helgason, and Andreas Ploner, were exceptional players. Having these guys run the table on me was worth the trip.
"Also, I was really impressed by the players from the UK and Ireland. They were a level above all the rest of the field, regarding both skill and attitude."
Kopel did however manage to claim two victories out of his seven group matches, as he overcame Andrei Orzan 4-3, and Vladimir Kalinovski 4-1.
The trip was not all about the snooker though, as Kopel ventured out into the city. "I found the locals to be surprisingly friendly and welcoming," he said. "I made friends with some of the Bulgarian competitors. We went out one night and I taught them how to play one-handed one pocket while holding a glass of whiskey in your other hand!"
Welshman Daniel Wells went onto capture the Men's European Snooker Championship title after defeating Ireland's Vincent Muldoon 7-4 in the final. The Ladies' Event was won by Belgium's Wendy Jans, and England's Steve Judd claimed the Seniors' Event title.
Kopel's snooker travels will continue this coming week, as he heads for Brooklyn, New York, to compete in this year's United States National Snooker Championship at the Prince Snooker Club.
The USSA would like to thank the European Billiards & Snooker Association for their guest invitation, and also Alex Kopel for making the journey to Sofia to represent the United States on the international snooker stage.