Prabhakar Posts First Narrow Loss In India
filed on Monday, November 28, 2011. 10:17am PT/USA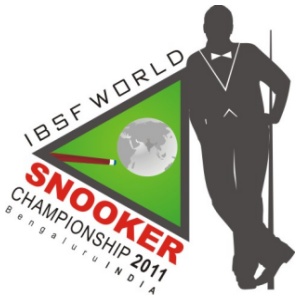 Ajeya Prabhakar snatched defeat from the jaws of victory after his first group match on the first day's play of the 2011 International Billiards & Snooker Federation (IBSF) World Snooker Championship hosted by the Karnataka State Billiards Association (KSBA) in Bangalore, India.
Prabhakar, returning to his former home state where he grew up and learned how to play snooker, faced Au Chi Wai in his first Group R match of his World Championship campaign and got off to a wonderful start as he comfortably took a 2-0 lead over his highly experienced 42-year-old opponent from Hong Kong.
Au struck back to claim frame three but it was Prabhakar who restored his two-frame advantage when he took frame four with an excellent break of 68 and now just needed one more frame to secure his first group victory.
However fortunes for Prabhakar then took a dramatic turn for the worse as he just could not close out the match, as Au won a narrow fifth frame to trail 3-2 and then raced away with the following two frames to defeat the Californian 4-3 and leave him bitterly disappointed.
Ajeya Prabhaker
File photo © SnookerUSA.com
Ahmed Aly, the reigning and three times United States National Snooker Champion, found the going extremely tough on the first day's play of the Championship.
The 31-year-old from Brooklyn, New York, had two matches to play in Group A and he lost his first against the 2008 IBSF World Snooker Champion from Thailand, Thepchaiya Un-Nooh, 4-0, and then also lost to one of India's leading players, Manan Chandra, by the same scoreline later in the day.
Aly will need to win his remaining two group matches very convincingly if he is to have any hope of progressing to the knockout phase of this Championship.
The full group draws and results are available on the IBSF website:
» 2011 IBSF World Snooker Championship group draws & results