Aly Claims First World Snooker Match Win For America
filed on Tuesday, November 29, 2011. 9:22am PT/USA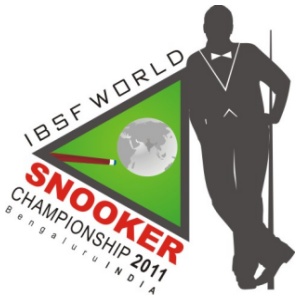 The reigning United States National Snooker Champion, Ahmed Aly Elsayed, has claimed the first win for the United States on the second day's play of the 2011 International Billiards & Snooker Federation (IBSF) World Snooker Championship hosted by the Karnataka State Billiards Association (KSBA) in Bangalore, India.
After a very disappointing start to his IBSF World Snooker Championship campaign which saw Aly lose his first two Group A matches, the 31-year-old from Brooklyn, New York, faced Misja van Vonderen who had also lost his first two matches.
The 38-year-old Dutchman got off to a flying start however when he decisively won the first frame, but from then on it was plain sailing for the American as he reeled off four successive frames for a 4-1 victory, closing out the match with an excellent break of 73.
That win for Aly keeps his qualification hopes for the knockout phase alive, though needs to pull off a win over Belgium's Kevin van Hove Speltincx in their final group match.
Ahmed Aly Elsayed
File photo © SnookerUSA.com
Meanwhile Ajeya Prabhakar was also back in Group R action today as he took on Karam Fateima from Syria, and went down to a 4-1 defeat.
Afterward's the former United States National Snooker Champion told SnookerUSA.com: "It was a tough match, I could not get going and he did not miss a single long pot so it was tough to put pressure on him."
Prabhakar admitted that he still felt disappointed after losing his first group tie from a leading position, and added: "He made a crucial 34 off a fluke at 3-1, but it would have been tough to finish him anyway as I was definitely lacking in confidence after yesterday's loss."
Prabhakar can still advance into the knockout phase of the Championship, though he needs to win both of his final two group matches tomorrow against Belgium's Peter Bullen and home player Neeraj Kumar respectively.
The full group draws and results are available on the IBSF website:
» 2011 IBSF World Snooker Championship group draws & results