Girdpool Gains More Vegas Snooker Success
filed on Tuesday, December 6, 2011. 11:55am PT/USA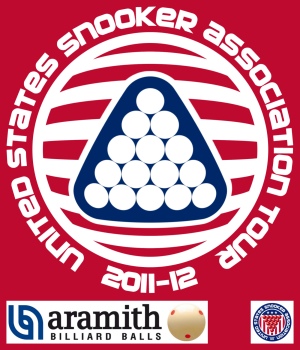 Joe Girdpool has successfully defended the first of the 2011-12 United States Snooker Association (USSA) Tour season events at the 4 Kaz Snooker Club & Bar in Las Vegas, sponsored by Aramith Billiard Balls, with victory this past weekend in Event 5.
The final was an extremely tight affair where Girdpool, the owner of the 4 Kaz Snooker Club & Bar who won last season's USSA Tour event at his club back in May, faced a newcomer to the USSA Tour, Jim West, known predominantly as a pool player, though impressed on the snooker table as he took an early 2-0 advantage in this race-to-three frames encounter.
However Girdpool's years of experience in playing snooker then shone through, as he went on to win the remaining three frames to capture his third USSA Tour title.
The winner of Event 5 on the 2011-12 USSA Tour, Joe Girdpool (pictured left), with runner-up, Jim West
Photo © SnookerUSA.com
The players were initially drawn into two groups with Girdpool and West both drawn in Group B, but it was West who won the group undefeated to progress to a semifinal against the runner-up of Group A, Bob Morton.
Morton from Saskatoon in Canada, is the current serving Vice-President of the Canadian Billiards & Snooker Association, and traveled to Las Vegas to participate from his winter holiday home in Arizona, though lost to West in that semifinal, 3-0.
Another Canadian now resident in Las Vegas however won Group A, as Henry Nogiec, owner of the Las Vegas Cue Club, booked a semifinal meeting with Girdpool but he too lost 3-0.
The USSA would like to offer its many thanks to Joe Girdpool and the 4 Kaz Snooker Club & Bar for their continued support for the USSA Tour, and we look forward to the second event there this season from March 31 to April 1 next year.
The 2011-12 USSA Tour next moves onto Brooklyn, New York, over the weekend of December 10-11, when the Top 147 Snooker Club hosts Event 6.
For the 2011-12 USSA Tour schedule and entry details, click on the link below:
» 2011-12 USSA Tour details