Snooker Tour Season Concludes With Isaac Victory
filed on Monday, April 30, 2012. 2:10pm PT/USA
The 2011-12 USSA Tour season, sponsored by Aramith Billiard Balls, has concluded with a high-quality Event 13 at Shoreline Billiards in Mountain View, California, won by another newcomer to the Tour, Sargon Isaac.
The winner of Event 13 on the 2011-12 USSA Tour, Sargon Isaac (pictured right), with runner-up, Ajeya Prabhakar
Photo © SnookerUSA.com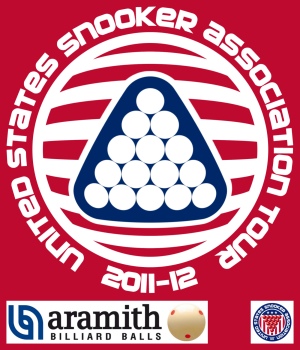 Isaac, who is originally from Nottingham in England though is now an American citizen, became the tenth different winner on the USSA Tour this season from the thirteen events, and fantastically fought through to victory by overcoming some stern opposition.
The event was divided into two groups of play with Isaac winning Group A and he would face Group B runner-up in the semifinals, Graham Perry, who had finished runner-up in this season's Tour Event 9 at the Ace Snooker Club in San Mateo, California.
Group B was won by the former United States National Snooker Champion, Ajeya Prabhakar, who had defeated Perry in the final of Tour Event 9, and he set up a semifinal encounter with the runner-up of Group A, Romil Azemat, who tasted victory this season in Tour Event 10 at the 4 Kaz Snooker Club & Bar in Las Vegas.
With four very accomplished players battling out the semifinals it was expected that both ties would be closely fought, however they were surprisingly one sided as Isaac and Prabhakar scored relatively quick 3-0 victories.
In the best-of-seven frames final, Prabhakar easily secured the first frame, but Isaac responded magnifcently in winning the following four straight frames for a 4-1 success.
Isaac, Prabhakar and Azemat now have a month to prepare their games as all three of them have entered this year's United States National Snooker Championship at the Embassy Billiards Club in San Gabriel, California, which should prove to be one of the most highly contested and competitive Championships of all time.
The USSA would like to thank the proprietor of Shoreline Billiards, Jerry Leo, for his most generous support toward the USSA Tour and for preparing the tables with brand new cloth especially for the event.
The USSA would also like to offer their gratitude to Aramith Billiard Balls, for their kind sponsorship of this season's Tour, to all the billiard room and snooker club owners who supported this season's Tour, and to all the participants making it the largest and most successful ever.
The USSA will shortly be working on the Tour schedule for the 2012-13 season, with all the details being published on the SnookerUSA.com website.
For the 2011-12 USSA Tour schedule and entry details, click on the link below:
» 2011-12 USSA Tour details