Sylver Claims Gold To Celebrate Opening Of "Snooker 147"
filed on Monday, November 12, 2012. 12:02pm PT/USA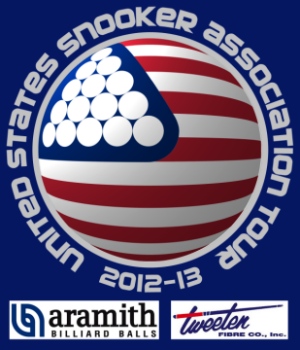 Sylver Ochoa has won Tour Event 2 of the 2012-13 United States Snooker Association (USSA) season, sponsored by Aramith Billiard Balls and the Tweeten Fibre Co., which was also a tournament to celebrate the opening of the new "Snooker 147" club in Houston, Texas.
A full-field of 32 players entered this double-elimination tournament format, all competing for a first prize of $1,500, and it was Ochoa who ran out the victor with a defeat over Joey Torres in the final.
Ochoa is best known as a pool player and is a very accomplished player on the scene, and particularly favors the game of one-pocket where has has had some considerable achievements in his career, but he also demonstrated here that he has a good eye for snooker too.
In the semifinals Ochoa had a 3-1 win over Mani Hassan, a proprietor of Snooker 147, while Torres had a good 3-0 success over Muslim Sarfaraz who was a winner on last season's USSA Tour.
The winner of Event 2 on the 2012-13 USSA Tour, Sylver Ochoa (center),
pictured with runner-up, Joey Torres (far left), and losing semifinalist, Mani Hassan (second left).
Also pictured is the co-owner of Snooker 147, Aurangzeb Mahmud (far right)
Photo © SnookerUSA.com
The Snooker 147 club is the proud creation of Mr. Hassan's and it truly is a remarkable establishment for all snooker enthusiasts in the Houston area to go and experience and hone their snooker skills in.
Located at 14144 Westheimer Rd, Suite I, in Houston, Snooker 147 has eight full-sized 12ft x 6ft snooker tables, a combination of the world famous snooker brands Riley and BCE all imported from England, which includes two Riley Aristocrat Tournament tables, one that was used in the 2006 World Championship at The Crucible Theatre in Sheffield, England.
Marcus Norwood, a keen billiards and snooker enthusiast living in Houston, paid a visit to Snooker 147 to shoot the video below before the final day's play of this Tour event got underway, where Mr. Hassan gave an insight into the new Snooker 147 club.
The USSA would like to congratulate Mr. Hassan and his team on their triumphant opening of Snooker 147, and wish him continued success into the future. The USSA would also like to thank Mr. Hassan's support for the USSA Tour, and look forward to working with him again on the hosting of more snooker events into the future.
The next scheduled event on the 2012-13 USSA Tour is Event 3 at the Ace Snooker Club in San Mateo, California, over the weekend of November 17 & 18.
For the complete 2012-13 USSA Tour season schedule and entry details, please click on the link below:
» 2012-13 USSA Tour Schedule & Entry Details