Lee Makes His USSA Tour Breakthrough In Brooklyn
filed on Sunday, November 25, 2012. 8:52pm PT/USA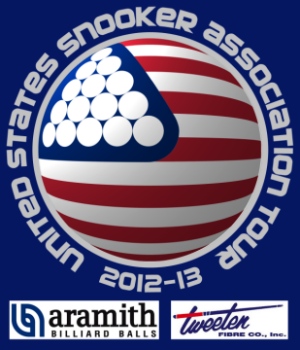 Tim Lee has won his first United States Snooker Association (USSA) Tour title by winning the rescheduled Event 1 of the 2012-13 season, sponsored by Aramith Billiard Balls and the Tweeten Fibre Co., with success at the Prince Snooker Club in Brooklyn, New York.
The event was postponed from its original scheduled date of November 3 & 4 because of Storm Sandy, and as people in the area are still feeling the effects of the aftermath it was understandable that it had a bearing on the number of entries for this event.
Lee however has been a regular competitor over the years in the New York City USSA Tour events, and was a quarterfinalist in both the 2010 & 2011 United States National Snooker Championships.
His standard of play has been improving steadily over the years and this was evident as he overcame another much improved player, Henry Wong, 4-0 in the final.
The overwhelming scoreline though did not reflect the closeness of this hard fought final between both players, as each of the four frames went down to the final colors - frame three being won on the final black ball.
The winner of the rescheduled Event 1 on the 2012-13 USSA Tour,
Tim Lee (pictured right), with runner-up, Henry Wong
Photo © SnookerUSA.com
Lee won Group B with the loss of just one frame, and he then surged to a 3-0 semifinal victory over Willam Chu.
Despite Wong losing 2-1 to Yan Y. Zhen, a semifinalist in the 2011 United States National Snooker Championship played at the Prince Snooker Club, he still managed to win Group A to set up a semifinal against the defending champion of this Tour event, Raymond Fung, who won four USSA Tour titles last season.
Although they are good friends, Wong has had some incredibly tight tussles with Fung over the years in which he has usually come out second best, and this was yet another closely contested tie with each frame going down to the final colors but he squeezed through to record a 3-2 success and book his final berth.
The USSA would like to thank the proprietor of the Prince Snooker Club, Tommy Chen, who is a valued and generous host of snooker events in the United States, and much gratitude goes to him for staging this event in difficult circumstances.
Tour Event 4 at Carom Café Billiards in Flushing, New York, which was also postponed because of Storm Sandy has yet to be rescheduled, so the next scheduled event on the 2012-13 USSA Tour is Event 5 at the 4 Kaz Snooker Club & Bar in Las Vegas, Nevada, over the weekend of December 1 & 2.
For the complete 2012-13 USSA Tour season schedule and entry details, please click on the link below:
» 2012-13 USSA Tour Schedule & Entry Details