National Championship Group Draws Announced
filed on Saturday, May 25, 2013. 5:23am PT/USA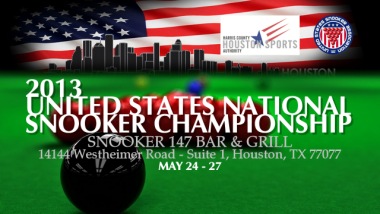 The draws for the initial group stage of the 2013 United States National Snooker Championship have been made at Snooker 147 Bar & Grill in Houston, Texas.
The draw was conducted in public after yesterday evening's Players' Meeting, with each of the eight groups being assigned one seeded player based on performances in the previous three Championships, with the defending Champion, Sargon Isaac, seeded number one.
The group draws are as follows with the figure stated after the player's name indicating the seeding:
Group A
No.
Player
1
Sargon Isaac (California) 1
2
Jason Orlando (Texas)
3
Pravin Patel (Texas)
4
Kevin Wong (New York)
Group B
No.
Player
1
Tom Kollins (Illinois) 8
2
Mihai Visovan (California)
3
Corey Deuel (Florida)
4
Pedram Tabrisy (Maryland)
5
Marlin Li (New York)
Group C
No.
Player
1
Raymond Fung (New York) 6
2
Rhett McCreless (Alabama)
3
Mani Hassan (Texas)
4
Cheang Ciing Yoo (Washington)
Group D
No.
Player
1
Ahmed Aly Elsayed (New York) 2
2
Waqqas Ghaffar (Texas)
3
Nick Buttery (Texas)
4
Lap Mui (New York)
Group E
No.
Player
1
Ajeya Prabhakar (California) 3
2
Mohammed Ajmal (Texas)
3
Suleiman Moton (Texas)
4
Jeff Szafransky (California)
Group F
No.
Player
1
Jian Qiang Wang (New York) 7
2
Srinivas Bedadakota (Illinois)
3
Andy Jethwa (Texas)
4
Omar Moton (Texas)
Group G
No.
Player
1
Romil Azemat (Arizona) 4
2
Adewale Okunoren (Texas)
3
Aurangzeb Mahmud (Texas)
4
Vaishal Talati (Illinois)
Group H
No.
Player
1
Henry Wong (New Jersey) 5
2
Muslim Sarfaraz (Texas)
3
Michael Collins (Kentucky)
4
Mark White (Texas)
All group matches are played over the best-of-three frames (first player to win two frames), with the top two players from each group advancing into the Round of 16 knockout stage of the Championship.
Full coverage of the Championship will be here on SnookerUSA.com.