Defending Champion Isaac Halts Remarkable Run From Kollins
filed on Sunday, May 26, 2013. 7:41pm PT/USA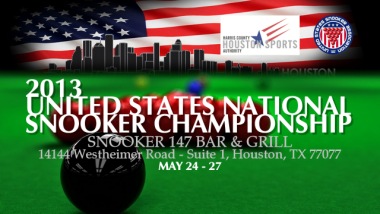 The defending champion Sargon Isaac has halted the remarkable run to the quarterfinals of the record five-time United States National Snooker Champion, Tom Kollins, to book his 2013 Championship semifinal berth at Snooker 147 Bar & Grill in Houston, Texas.
It is testament to his considerable snooker prowess, that even at the age of 77 Kollins had such a comfortable path to the quarterfinals and managed to win a frame from the number one seed and favorite for the title before bowing out 3-1.
In the semifinals Isaac will face the 2006 Championship runner-up from Arizona, Romil Azemat, as the number four seed gained a very creditable 3-2 success over the local debutant, Mark White, who had impressed many on his way to the quarterfinals.
A closely fought contest was predicted to sort out the winner from the quarterfinal between the 2000 Champion Ajeya Prabhakar and the 2004 runner-up Raymond Fung, and that was precisely the outcome.
Prabhakar, the number three seed from California, was seeking revenge for his 3-2 defeat by Fung in the Round of 16 of the 2010 Championship, and indeed he went onto achieve this as he overcame the number six seed from New York by that same scoreline.
Prabhakar will be seeking to go through to his sixth Championship final to equal the record of Kollins when he faces the former U.S. Open 9-Ball Pool Champion, Corey Deuel, in the semifinals, who had a 3-1 quarterfinal victory over the debutant player from Texas, Andy Jethwa.
Play resumes tomorrow on Memorial Day Monday at midday local Central Time with the semifinals which are to be contested over the best-of-7-frames, and the final will commence at 6pm local Central Time to be played over the best-of-9-frames.
The quarterfinal results are as follows:

Quarterfinals
(Best-of-5-frames)
Match ID
Player
Player
QF1
Sargon Isaac (California) 1
3 - 1
Tom Kollins (Illinois) 8
QF2
Romil Azemat (Arizona) 4
3 - 2
Mark White (Texas)
QF3
Ajeya Prabhakar (California) 3
3 - 2
Raymond Fung (New York) 6
QF4
Andy Jethwa (Texas)
1 - 3
Corey Deuel (Florida)
The semifinal draw is as follows:

Semifinals
(Best-of-7-frames)
Match ID
Player
Player
SF1
Sargon Isaac (California) 1
vs.
Romil Azemat (Arizona) 4
SF2
Ajeya Prabhakar (California) 3
vs.
Corey Deuel (Florida)
Full coverage of the results of the 2013 United States National Snooker Championship will continue here on SnookerUSA.com.