Latvia Reinstates Hosting Of 2013 IBSF World Snooker Championships
filed on Thursday, August 22, 2013. 8:20am PT/USA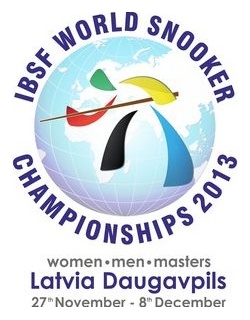 After their initial cancellation, the Latvian Republic Billiards Federation (LRBF) has had another bid accepted by the International Billiards & Snooker Federation (IBSF) to host this year's IBSF World Snooker Championships this time in the city of Daugavpils.
The LRBF's initial intention was to host the Championships in the capital of Riga, however the city council of Daugavpils, which is a city of over 100,000 people located about 140 miles south-east of Riga close to the border with Lithuania and Belarus, stepped in with support for the Championships which are expected to attract over 200 players competing from up to sixty nations around the world to the.
The Championships, which consist of three events for Men, Ladies and Masters (over 40s) respectively, will be played in the city's Olympic Center sports complex from November 27 - December 8.
The reigning United States National Snooker Champion, Corey Deuel, is expected to travel to Latvia to represent the United States in the Men's Event, with the winner of the title becoming a professional member the 2014-15 World Snooker Tour.