Deuel "Excited" About IBSF World Snooker Experience
filed on Monday, November 25, 2013. 12:51pm PT/USA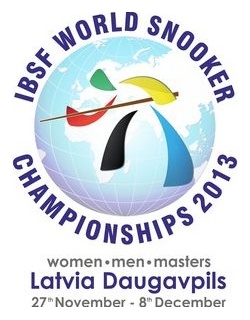 The United States National Snooker Champion Corey Deuel says he is "excited" as he prepares for his trip to Latvia to compete in this year's International Billiards & Snooker Federation (IBSF) World Snooker Championships, which get underway on November 27 at the Olympic Center sports complex in the city of Daugavpils.
These huge international championships, which will conclude on December 8, will bring together over 200 players from fifty-one nations around the world to compete in events for Men, Ladies and Masters (over 40s), with the winner of the Men's Event qualifying to compete as a professional on the multimillion dollar 2014-15 World Snooker Tour.
The IBSF gave three spots for United States players in this year's Men's Event, and it is Deuel as the current National Snooker Champion who leads the American challenge.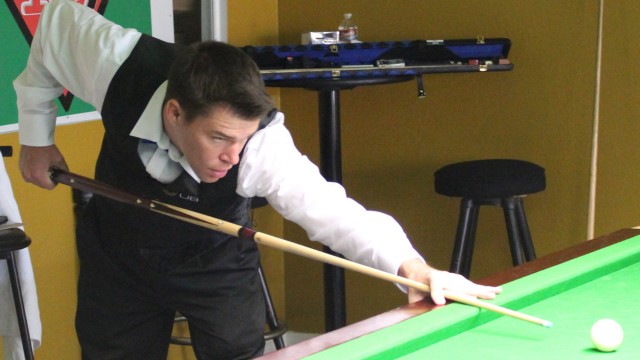 36-year-old Deuel told the SnookerUSA.com website that he was "very excited to play in my first international snooker event" and equated it to the feeling he had when he competed in his first U.S. Open 9-Ball Championship at the age of 16 — a title he would go onto win in 2001.
He also commented: "Not sure what to expect from my game as I have no idea how good I am or what my potential is in snooker.
"The main goal for me is to learn all I can and I feel it should pay off in the long run and help my pool game."
The three-time former United States National Snooker Champion Ahmed Aly Elsayed from Brooklyn, New York, was very pleased that he was able to accept a spot for the United States after the runner-up in this year's National Championship, Sargon Isaac, was unable to take up his rightful place in Latvia.
Ahmed Aly Elsayed pictured deep in thought during the 2013 United States National Snooker Championship
33-year-old Aly, who was narrowly defeated 3-2 by Deuel in the round of 16 at this year's National Championship, has the experience of competing in previous IBSF World Snooker Championships, and he is hoping that he and his fellow American players can perform to the best of their abilities during these Championships.
Jeff Szafransky is the third United States player in the Men's Event and he is a highly experienced player who has reached several National Championship quarterfinals and represented his country on a number of occasions in IBSF competition.
The United States will also have a player in the Masters Event as New Jersey's Rezk Atta will make his debut in international snooker for his country.
There are eighteen round-robin groups of players in the Men's Event with the top four players from each of the groups advancing into the knockout phase of the Event.
Deuel has been drawn in Group P with Iulian Boiko of Ukraine, Batsukh Baldandorj of Mongolia, Patryk Masłowski of Poland, David Vaitzman of Israel, Zhao Xintong of China, and Lee Walker of Wales. Aly is in Group A alongside Bratislav Krastev of Bulgaria, David Hogan of Ireland, Ismail Türker of Turkey, Lukas Kleckers of Germany, home player Peteris Ermansons, and the defending Men's champion Muhammad Asif of Pakistan. Szafransky is in Group B and will face Hussain Alawadhi of Kuwait, Hans Blanckaert of Belgium, Zhou Yuelong of China, Joseph McLaren of Scotland, Jeff Cundy of England, and Simonas Dragunas of Lithuania.
There are twelve round-robin groups of players in the Masters' Event with the top three players from each of the groups going through to the knockout phase of the Event.
Atta has been drawn in Group J of the Masters' Event and his opponents will be Alain Vandersteen of Belgium, Mindaugas Maisiejus of Lithuania, Ygal Pagliari of Israel, Chuchart Trairattanapradit of Thailand, and Shane Gorman Ireland.
A complete list of the Group draws and results from each of the events is available on the official scoring website:
» Men's Event
» Ladies' Event
» Masters' Event