United States Thankful For Aly Sole Victory At IBSF World Snooker
filed on Thursday, November 28, 2013. 12:25pm PT/USA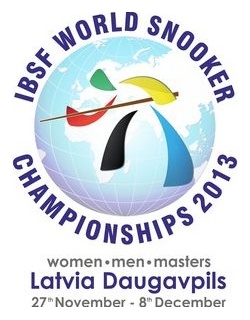 Thanksgiving Day brought one sole victory from Ahmed Aly Elsayed out of the three United States players competing on the first day's play of the 2013 International Billiards & Snooker Federation (IBSF) World Snooker Championships at the Olympic Center in Daugavpils, Latvia.
Victory for the former three-times United States National Snooker Champion came in the 5:30pm session, however he first had to do battle in the Championship's opening session of play which began at 10am local time (midnight Pacific Time in the United States / 8am GMT) which also featured the United States' Jeff Szafransky playing in the Men's Event.
In Aly's first Group A match he had the tough proposition of facing the defending champion, Muhammad Asif, and the player from Pakistan completely shut him out of the first three frames, but he did halt his progress by taking frame four. Asif however reeled off a swift 4-1 victory as he compiled a frame and match winning break of 65 in the fifth frame.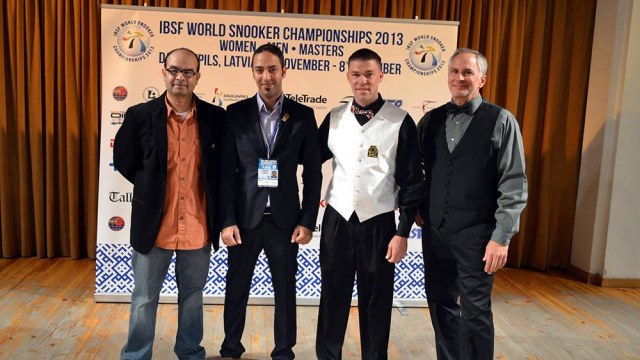 Szafransky was in action in Group B against Zhou Yuelong who is a great young snooker prospect from China, but although the Californian lost 4-1, three of the four frames that he lost to the 15-year-old went down to the final colored balls including a fourth frame final black ball.
The reigning United States National Champion Corey Deuel is no stranger to major international billiard events through his exploits in pool, but he had a difficult snooker baptism as he went down 4-1 to Mongolia's Batsukh Baldandorj in his first Group P match which got underway at 3pm local time.
Aly returned later in the day in the 5:30pm session to play Peteris Ermansons from the host nation and proceeded to win 4-2, but it was hard luck for Szafransky as he let slip leads of 2-1 and 3-2 to suffer a 4-3 defeat at the hands of Belgium's Hans Blanckaert.
United States players' results:
Corey Deuel (Men's Event Group P)
Match 1 - lost to Batsukh Baldandorj (Mongolia) 4-1
Ahmed Aly Elsayed (Men's Event Group A)
Match 1 - lost to Muhammad Asif (Pakistan) 4-1
Match 2 - defeated Peteris Ermansons (Latvia) 4-2
Jeff Szafransky (Men's Event Group B)
Match 1 - lost to Zhou Yuelong (China) 4-1
Match 2 - lost to Hans Blanckaert (Belgium) 4-3
United States players' playing schedules (Local Latvia time stated):
Corey Deuel (Men's Event Group P)
Match 2 - November 29: 3pm start vs. Iulian Boiko (Ukraine)
Match 3 - November 30: 5:30pm start vs. Lee Walker (Wales)
Match 4 - December 1: 8pm start vs. Zhao Xintong (China)
Match 5 - December 2: 8pm start vs. David Vaitzman (Israel)
Ahmed Aly Elsayed (Men's Event Group A)
Match 3 - November 29: 5:30pm start vs. Lukas Kleckers (Germany)
Match 4 - November 30: 8pm start vs. Ismail Türker (Turkey)
Match 5 - December 1: 8pm start vs. David Hogan (Ireland)
Match 6 - December 3: 12:30pm start vs. Bratislav Krastev (Bulgaria)
Jeff Szafransky (Men's Event Group B)
Match 3 - November 29: 8pm start vs. Hussain Alawadhi (Kuwait)
Match 4 - November 30: 8pm start vs. Simonas Dragunas (Lithuania)
Match 5 - December 2: 10am start vs. Jeff Cundy (England)
Match 6 - December 3: 8pm start vs. Joseph McLaren (Scotland)
Rezk Atta (Masters' Event Group J)
Match 1 - November 29: 5:30pm start vs. Alain Vandersteen (Belgium)
Match 2 - November 30: 3pm start vs. Mindaugas Maisiejus (Lithuania)
Match 3 - December 3: 5:30pm start vs. Ygal Pagliari (Israel)
Match 4 - December 4: 10am start vs. Chuchart Trairattanapradit (Thailand)
Match 5 - December 4: 3pm start vs. Shane Gorman (Ireland)
A complete list of the Group draws and results from each of the events is available on the official scoring website:
» Men's Event
» Ladies' Event
» Masters' Event