Deuel In Good Spirits Despite Another Loss In Latvia
filed on Sunday, December 1, 2013. 1:46pm PT/USA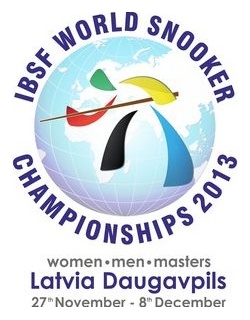 Corey Deuel is still enjoying his 2013 International Billiards & Snooker Federation (IBSF) World Snooker Championships experience, despite suffering another loss on the fourth day's play at the Olympic Center in Daugavpils, Latvia.
After his previous Group P match against Lee Walker, Deuel admitted it was fun to watch as the Welshman fired in two century breaks against him resulting in a 4-0 defeat, and he had to endure a similar fate in today's match against China's Zhao Xintong who compiled a top break of 80 to overcome Deuel by the same scoreline.
The reigning United States National Snooker Champion will now have to win his final group match tomorrow against Israel's David Vaitzman to have any hope of progressing to the knockout stage of the Men's Event.
Ahmed Aly Elsayed however has had his fate sealed in the Men's Event as he lost 4-0 in today's Group A match against David Hogan, with the Irishman hitting a highest break of 89 along the way. Aly will play his final group match against Bratislav Krastev of Bulgaria on December 3.
United States players' results:
Corey Deuel (Men's Event Group P)
Match 1 - lost to Batsukh Baldandorj (Mongolia) 4-1
Match 2 - defeated Iulian Boiko (Ukraine) 4-0
Match 3 - lost to Lee Walker (Wales) 4-0
Match 4 - lost to Zhao Xintong (China) 4-0
Ahmed Aly Elsayed (Men's Event Group A)
Match 1 - lost to Muhammad Asif (Pakistan) 4-1
Match 2 - defeated Peteris Ermansons (Latvia) 4-2
Match 3 - lost to Lukas Kleckers (Germany) 4-0
Match 4 - lost to Ismail Türker (Turkey) 4-1
Match 5 - lost to David Hogan (Ireland) 4-0
Jeff Szafransky (Men's Event Group B)
Match 1 - lost to Zhou Yuelong (China) 4-1
Match 2 - lost to Hans Blanckaert (Belgium) 4-3
Match 3 - lost to Hussain Alawadhi (Kuwait) 4-1
Match 4 - lost to Simonas Dragunas (Lithuania) 4-1
Rezk Atta (Masters' Event Group J)
Match 1 - lost to Alain Vandersteen (Belgium) 3-0
Match 2 - lost to Mindaugas Maisiejus (Lithuania) 3-0
United States players' playing schedules (Local Latvia time stated):
Corey Deuel (Men's Event Group P)
Match 5 - December 2: 8pm start vs. David Vaitzman (Israel)
Ahmed Aly Elsayed (Men's Event Group A)
Match 6 - December 3: 12:30pm start vs. Bratislav Krastev (Bulgaria)
Jeff Szafransky (Men's Event Group B)
Match 5 - December 2: 10am start vs. Jeff Cundy (England)
Match 6 - December 3: 8pm start vs. Joseph McLaren (Scotland)
Rezk Atta (Masters' Event Group J)
Match 3 - December 3: 5:30pm start vs. Ygal Pagliari (Israel)
Match 4 - December 4: 10am start vs. Chuchart Trairattanapradit (Thailand)
Match 5 - December 4: 3pm start vs. Shane Gorman (Ireland)
A complete list of the Group draws and results from each of the events is available on the official scoring website:
» Men's Event
» Ladies' Event
» Masters' Event