Deuel Leaves Latvia Loving The Snooker Challenge
filed on Monday, December 2, 2013. 2:18pm PT/USA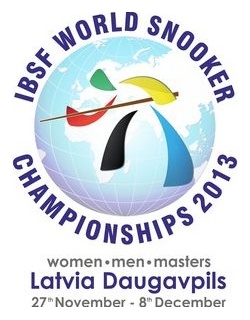 After defeat in his final group match of the 2013 International Billiards & Snooker Federation (IBSF) World Snooker Championships, Corey Deuel will leave the Olympic Center in Daugavpils, Latvia, with his head held up high and loving the fun challenge snooker has presented him with.
The reigning United States National Snooker Champion needed to beat David Vaitzman in his final Group P match of the Men's Event today to have any chance of advancing into the knockout stage, and he did hold leads of 1-0 and 2-1 over his Israeli opponent but just could not hang on and he went down to a 4-2 defeat.
Being one of the world's leading pool players, Deuel has had nothing to prove in Latvia but his participation has been wonderful for snooker in the United States in creating a wealth of interest in his progress by his multitude of fans back home.
Deuel has huge enthusiasm for snooker, and he commented: "I have had a fun trip and I will be working to see how I may be able to improve and get better.
"It may be a long challenge, but that makes it fun for me!"
Deuel should be praised for his snooker efforts right from the moment he entered this year's United States National Snooker Championship, and hopefully his attitude will inspire many other billiard players in the United States who look up to him to take up the sport.
Jeff Szafransky played in his penultimate Group B match in the Men's Event today, and he faced the undefeated Englishman Jeff Cundy whose snooker prowess was on display as he ran out a comfortable 4-0 winner over the Californian.
Szafransky will play his final group match tomorrow at 8pm local time against Scotland's Joseph McLaren, and it will also be the final game for Ahmed Aly Elsayed as he will hope to finish in winning ways against Bulgaria's Bratislav Krastev.
United States players' results:
Corey Deuel (Men's Event Group P)
Match 1 - lost to Batsukh Baldandorj (Mongolia) 4-1
Match 2 - defeated Iulian Boiko (Ukraine) 4-0
Match 3 - lost to Lee Walker (Wales) 4-0
Match 4 - lost to Zhao Xintong (China) 4-0
Match 5 - lost to David Vaitzman (Israel) 4-2
Ahmed Aly Elsayed (Men's Event Group A)
Match 1 - lost to Muhammad Asif (Pakistan) 4-1
Match 2 - defeated Peteris Ermansons (Latvia) 4-2
Match 3 - lost to Lukas Kleckers (Germany) 4-0
Match 4 - lost to Ismail Türker (Turkey) 4-1
Match 5 - lost to David Hogan (Ireland) 4-0
Jeff Szafransky (Men's Event Group B)
Match 1 - lost to Zhou Yuelong (China) 4-1
Match 2 - lost to Hans Blanckaert (Belgium) 4-3
Match 3 - lost to Hussain Alawadhi (Kuwait) 4-1
Match 4 - lost to Simonas Dragunas (Lithuania) 4-1
Match 5 - lost to Jeff Cundy (England) 4-0
Rezk Atta (Masters' Event Group J)
Match 1 - lost to Alain Vandersteen (Belgium) 3-0
Match 2 - lost to Mindaugas Maisiejus (Lithuania) 3-0
United States players' playing schedules (Local Latvia time stated):
Ahmed Aly Elsayed (Men's Event Group A)
Match 6 - December 3: 12:30pm start vs. Bratislav Krastev (Bulgaria)
Jeff Szafransky (Men's Event Group B)
Match 6 - December 3: 8pm start vs. Joseph McLaren (Scotland)
Rezk Atta (Masters' Event Group J)
Match 3 - December 3: 5:30pm start vs. Ygal Pagliari (Israel)
Match 4 - December 4: 10am start vs. Chuchart Trairattanapradit (Thailand)
Match 5 - December 4: 3pm start vs. Shane Gorman (Ireland)
A complete list of the Group draws and results from each of the events is available on the official scoring website:
» Men's Event
» Ladies' Event
» Masters' Event