Aly and Szafransky bid farewell to Latvia IBSF World Snooker
filed on Tuesday, December 3, 2013. 2:07pm PT/USA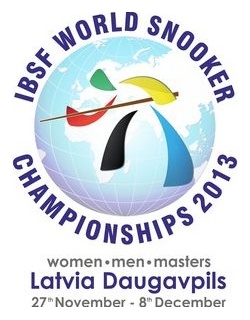 Ahmed Aly Elsayed and Jeff Szafransky wrapped up their Men's Event campaigns with losses in today's play of the 2013 International Billiards & Snooker Federation (IBSF) World Snooker Championships, while Rezk Atta continues to battle on for the United States in the Master's Event with a victory at Olympic Center in Daugavpils, Latvia.
The three-time former United States National Snooker Champion Aly lost his final Group A match 4-1 to Bulgaria's Bratislav Krastev, and he will naturally be very disappointed with his performances as he will feel a player of his ability should have advanced from this group.
This experience however will refocus his efforts and no doubt he will be trying his very best to capture a fourth United States National Snooker Championship title in May, of which will give him automatic selection to compete in these Championships next year.
Szafranky's last Group B match was against Scotland's Joseph McLaren, who was actually born in the United States to a Scottish father who subsequently went back to his homeland.
The Californian has a massive enthusiasm for playing snooker and he will go anywhere in the world when given the opportunity to play, so despite losing 4-0 to McLaren he would have relished his time in Latvia and hope to gain another experience like this.
Atta meanwhile is still very much alive in the Masters' Event as he delivered a very comfortable 3-0 victory over Israel's Ygal Pagliari, and a win in at least one of his two matches tomorrow to finish the group could earn him a place in the knockout phase.
Atta's remaining ties against Thailand's Chuchart Trairattanapradit and Ireland's Shane Gorman will decide his fate.
United States players' results:
Corey Deuel (Men's Event Group P)
Match 1 - lost to Batsukh Baldandorj (Mongolia) 4-1
Match 2 - defeated Iulian Boiko (Ukraine) 4-0
Match 3 - lost to Lee Walker (Wales) 4-0
Match 4 - lost to Zhao Xintong (China) 4-0
Match 5 - lost to David Vaitzman (Israel) 4-2
Ahmed Aly Elsayed (Men's Event Group A)
Match 1 - lost to Muhammad Asif (Pakistan) 4-1
Match 2 - defeated Peteris Ermansons (Latvia) 4-2
Match 3 - lost to Lukas Kleckers (Germany) 4-0
Match 4 - lost to Ismail Türker (Turkey) 4-1
Match 5 - lost to David Hogan (Ireland) 4-0
Match 6 - lost to Bratislav Krastev (Bulgaria) 4-1
Jeff Szafransky (Men's Event Group B)
Match 1 - lost to Zhou Yuelong (China) 4-1
Match 2 - lost to Hans Blanckaert (Belgium) 4-3
Match 3 - lost to Hussain Alawadhi (Kuwait) 4-1
Match 4 - lost to Simonas Dragunas (Lithuania) 4-1
Match 5 - lost to Jeff Cundy (England) 4-0
Match 6 - lost to Joseph McLaren (Scotland) 4-0
Rezk Atta (Masters' Event Group J)
Match 1 - lost to Alain Vandersteen (Belgium) 3-0
Match 2 - lost to Mindaugas Maisiejus (Lithuania) 3-0
Match 3 - defeated Ygal Pagliari (Israel) 3-0
United States players' playing schedules (Local Latvia time stated):
Rezk Atta (Masters' Event Group J)
Match 4 - December 4: 10am start vs. Chuchart Trairattanapradit (Thailand)
Match 5 - December 4: 3pm start vs. Shane Gorman (Ireland)
A complete list of the Group draws and results from each of the events is available on the official scoring website:
» Men's Event
» Ladies' Event
» Masters' Event