Atta narrowly misses out to end American hopes in Latvia
filed on Wednesday, December 4, 2013. 8:39am PT/USA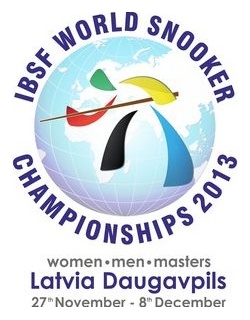 United States involvement in the 2013 International Billiards & Snooker Federation (IBSF) World Snooker Championships comes to an end on day seven of play at the Olympic Center in Daugavpils, Latvia, as Rezk Atta narrowly misses out on qualification to the knockout stage of the Masters' Event.
The player from New Jersey was required to win at least one of his remaining two Group J matches today against Thailand's Chuchart Trairattanapradit and Ireland's Shane Gorman.
Both opponents are very accomplished players and the Thai player demonstrated this with a quick-fire 3-0 victory, wrapping up the match with a break of 100 in the third frame.
Gorman had already qualified from the group by the time he played Atta, only losing to Trairattanapradit at this point, and he did go into a very comfortable 2-0 advantage however Atta was not yet finished.
Atta took frame three on the final colored balls, and he then comprehensively secured the fourth frame to level the tie and be one frame away from advancing into the knockout rounds of the event.
However it was not meant to be as the Irishman played a good fifth frame to win the match 3-2, and leave Atta disappointed.
The knockout rounds of these Championships will get underway tomorrow, with the champions of each of the three events being crowned on December 8, and the winner of the Men's Event being awarded a place on the professional 2014-15 World Snooker Tour.
United States players' results:
Corey Deuel (Men's Event Group P)
Match 1 - lost to Batsukh Baldandorj (Mongolia) 4-1
Match 2 - defeated Iulian Boiko (Ukraine) 4-0
Match 3 - lost to Lee Walker (Wales) 4-0
Match 4 - lost to Zhao Xintong (China) 4-0
Match 5 - lost to David Vaitzman (Israel) 4-2
Ahmed Aly Elsayed (Men's Event Group A)
Match 1 - lost to Muhammad Asif (Pakistan) 4-1
Match 2 - defeated Peteris Ermansons (Latvia) 4-2
Match 3 - lost to Lukas Kleckers (Germany) 4-0
Match 4 - lost to Ismail Türker (Turkey) 4-1
Match 5 - lost to David Hogan (Ireland) 4-0
Match 6 - lost to Bratislav Krastev (Bulgaria) 4-1
Jeff Szafransky (Men's Event Group B)
Match 1 - lost to Zhou Yuelong (China) 4-1
Match 2 - lost to Hans Blanckaert (Belgium) 4-3
Match 3 - lost to Hussain Alawadhi (Kuwait) 4-1
Match 4 - lost to Simonas Dragunas (Lithuania) 4-1
Match 5 - lost to Jeff Cundy (England) 4-0
Match 6 - lost to Joseph McLaren (Scotland) 4-0
Rezk Atta (Masters' Event Group J)
Match 1 - lost to Alain Vandersteen (Belgium) 3-0
Match 2 - lost to Mindaugas Maisiejus (Lithuania) 3-0
Match 3 - defeated Ygal Pagliari (Israel) 3-0
Match 4 - lost to Chuchart Trairattanapradit (Thailand) 3-0
Match 5 - lost to Shane Gorman (Ireland) 3-2
A complete list of the Group draws and results from each of the events is available on the official scoring website:
» Men's Event
» Ladies' Event
» Masters' Event