Deuel to fight it out at the World Snooker Q School
filed on Friday, May 9, 2014. 8:36am PT/USA

Corey Deuel will attempt to earn a professional 2014-15 World Snooker Tour card, as the reigning United States National Snooker Champion will compete in the World Snooker Q School which runs from May 10-21 at The Capital Venue in Gloucester, England.
The Q School is World Snooker's system for qualifying for their professional World Snooker Tour, which was first introduced back in 2011.
The 2014 World Snooker Q-School will consist of two events, with the semifinalists from both the events winning the eight 2-year tour cards on offer, guaranteeing their participation on the 2014-15 and 2015-16 World Snooker Tour seasons.
As a professional on the World Snooker Tour this offers the opportunity to enter all World Snooker Tour ranking events including the prestigious World Championship, and to compete in all European and Asian Tour events for a share of next season's $13.5million in prize money on offer.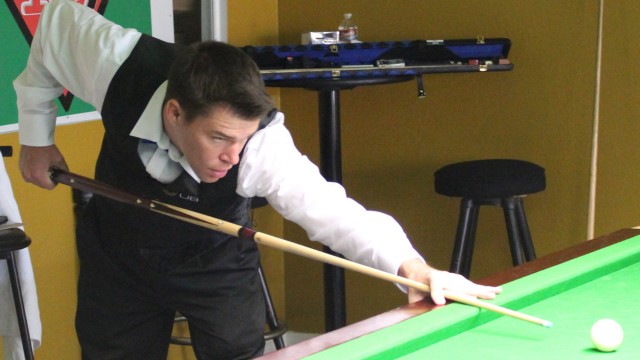 Even though Deuel is highly regarded in the world as a professional pool player, his interest in snooker is immense and he has commented that he considers snooker to be the best of all the billiard sports combined.
Deuel thoroughly enjoyed his experience in representing the United States at last year's IBSF World Snooker Championships in Latvia, and his entry into this year's World Snooker Q School demonstrates that he is very serious about improving his level of play in the sport.
Deuel's main disadvantage however is that he has not had the opportunity to practice intensely on the professional match tables that he will encounter at The Capital Venue, which has previously hosted the qualifying rounds for various events on the World Snooker Tour.
He is though a very accomplished performer and can call upon his wealth of experience in being in these kinds of pressure tournament environments.
All matches will be contested over the best-of-seven frames and will be refereed under professional conditions.
The draws for both of the events have been made and Deuel's first match in Event 1 in the round of 128 will commence on May 11 at 5pm local time (9am PT in the United States) and is against Welshman Daniel Wells, who dropped off the tour this season but nevertheless will prove to be a very tough opponent.
In Event 2, Deuel will face England's Martin Ball to start off in the round of 128, with the tie commencing on May 18 at 1pm local time (5am PT in the United States).
SnookerUSA.com will follow Deuel's progress closely and report on his results.