Prabhakar stuns Isaac to set up Fung final
filed on Monday, May 26, 2014. 4:15pm PT/USA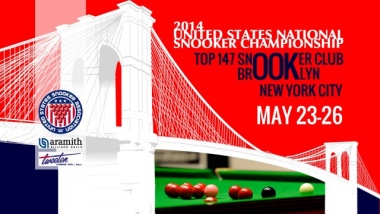 In a battle of former champions Ajeya Prabhakar has stunned number one seed Sargon Isaac to book his place in the final of the 2014 United States National Snooker Championship at the Top 147 Snooker Club in Brooklyn, New York, were he will meet local player Raymond Fung who was runner-up in this prestigious event a decade ago.
Although no big breaks were produced, Prabhakar put in a superb performance to stifle Isaac who would have gone into this match favorite to reach his third successive Championship final.
Prabhakar lost to Isaac when he won the title two years ago at the Embassy Billiards Club in San Gabriel, California, and he has also been left frustrated by several defeats in the finals of United States Snooker Association (USSA) Tour events.
The champion in 2000 however this time played an imperious semifinal and Isaac could not find any form as Prabhakar proceeded to win four straight frames in relative comfort to record a stunning 4-0 victory, and secure his sixth appearance in the final of this Championship.
Fung's passage to the final was made incredibly difficult though by New Jersey's Henry Wong, who was appearing in only his second Championship semifinal.
In what was an incredibly cagey long and drawn out affair that finished a long while after Prabhakar's semifinal, the match went back and forth as the players traded frames that resulted in an inevitable final frame shoot-out.
It was Fung though who secured the frame to record a draining 4-3 win.
Fung's runner-up placing back in 2004 was decided during a round-robin group format which was played at the New York Athletic Club, so this will be his first appearance in a Championship final match.
Confirmation of the semifinal results are as follows:

Semifinals
(Best-of-7-frames)
Match ID
Player
Player
SF1
Sargon Isaac (California) 1
0 - 4
Ajeya Prabhakar (California) 2
SF2
Raymond Fung (New York) 3
4 - 3
Henry Wong (New Jersey)
The final draw is as follows:

Final
(Best-of-9-frames)
Match ID
Player
Player
F
Ajeya Prabhakar (California) 2
vs.
Raymond Fung (New York) 3
The 2014 United States National Snooker Championship final report will appear here on SnookerUSA.com.