Hugh Brown tribute
filed on Friday, September 5, 2014. 9:47am PT/USA
The United States Snooker Association (USSA) pays tribute to the Scottish professional snooker referee, Hugh Brown, who sadly passed away last month.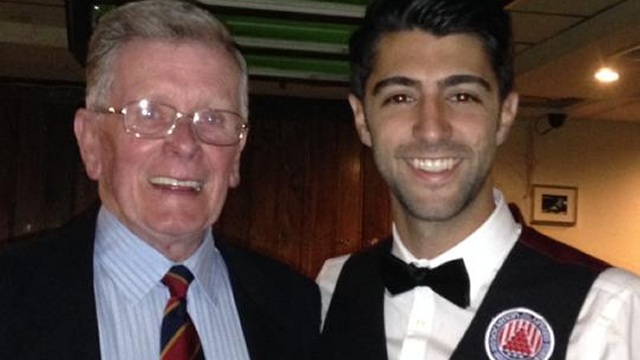 Hugh was born in Ayr, a town on the south-west coast of Scotland, in 1939, and at an early age he became engrossed by the work of the reknowned Scottish poet, Robert Burns.
Hugh was very fortunate to have been invited to speak at many prestigious venues all over Scotland, and he traveled worldwide on Burns Supper speaking engagements - back in 2010 in Canada he spoke at three Burns Suppers in one week!
In 2006 Hugh was voted 'Wit of the Year' at the Marriott Hotel in Glasgow, Scotland, where the audience are given the opportunity to vote for the speaker of their choice. He then followed up that success by winning the 'Wit of the Year 2011', in the Scottish capital of Edinburgh.
Hugh's sporting passion was snooker, and he was a member of the Professional Snooker Referees Association, as recognized by the World Professional Billiards & Snooker Association (WPBSA).
He first came to prominence with snooker in the United States when he was invited to be the Master of Ceremonies at the 2006 IBSF World Team Snooker Championships in San Jose, California, where he made many friends due to his unique character and sense of humor.
He was keen to help support snooker in the United States at his own expense, and offered his services as a tournament director and also to train snooker referees in the country. As a result he was then appointed by the USSA as its Head Referee and Official Refereeing Coach & Examiner.
For the past three years, Hugh attended the United States National Snooker Championships to offer his services, and for the 2012 Championship at the Embassy Billiards Club in San Gabriel, California, he took a team of players over from Scotland with him to play a challenge match.
His presence will indeed be sadly missed at future Championships, where he was always of great help and assistance, and also for the fun and laughter he brought to the occasion.
The reigning United States National Snooker Champion and current serving president of the USSA, Ajeya Prabhakar, led the tributes from the snooker community in the United States. He said: "I met Hugh in 2006, and I immediately knew that he was a kind and jovial person, and that we would be good friends from then on.
"He really supported me and our cause even though we faced so many challenges. We had been communicating constantly and had shared plans on how to progress snooker in the United States. It was indeed a huge blow to hear of his passing away. There wasn't a moment where he was not telling me a joke and bringing smiles to whoever was around him.
"Rest in Peace Hugh and we will always remember you with a smile! That is what you gave us when you were here."
The current vice-president of the USSA and five-time United States National Snooker Champion, Tom Kollins, commented: "Hugh Brown was a good friend of the USSA and a very good friend of mine. One of the most pleasant men to be around. Always had a laugh and a joke. He will be missed by many, many people."
The Executive Director of the USSA, Alan Morris, said: "I am devastated at the loss of Hugh! I first met him back in 2006 and remained close friends with him ever since, and we would regularly keep in touch with each other either by a telephone conversation or a text message.
"It was always great to see him in the United States, though a few years ago he invited me up to Scotland to visit him and as always he was on excellent form with his countless jokes and clever wit.
"I will certainly miss him, though I am thankful that I was fortunate to have known him and to have called him a friend."
The 2012 United States National Snooker Champion, Sargon Isaac, was also sad with the loss of his friend. He commented on Facebook: "RIP to my mate, mentor, trainer, and absolute legend Hugh Brown. You will be greatly missed by all."
The USSA would like to express our most sincere condolences to all of Hugh's family.