Prabhakar posts initial IBSF World Snooker loss
filed on Wednesday, November 19, 2014. 10:53am PT/USA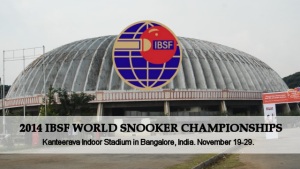 Ajeya Prabhakar has lost his first group match today in the Men's Event of this year's International Billiards & Snooker Federation (IBSF) World Snooker Championships, as the current United States National Snooker Champion was defeated by home player Rupesh Shah.
The 43-year-old from San Jose in California would have wanted to have got off to the best possible start in Group J, however it was not to be as Shah won the first frame with a break of 83.
Prabhakar hit back to take frame two on a respotted black, but again he found himself chasing the match as he lost the third frame on the final colored balls.
With the American yet again chasing the game, he managed to convincingly win frame four to level the tie at 2-2, but he then let the match slip away from him as Shah secured the following two frames to record a 4-2 victory.
Prabhakar said afterwards: "At 2-2 I missed some easy opportunities to go in front, but he made a great clearance to win 4-2.
"I definitely did not play even close to my best and felt very jet lagged the whole time."
Prabhakar's next Group J match will be at 5:30pm local time tomorrow against Finland's Jani Kananen.
Prabhakar's playing schedule and results (start times are stated in local time, +13:30hrs PT in the United States):
Group Match 1: November 19, 2014 - lost to Rupesh Shah (India) 4-2
Group Match 2: November 20, 2014 5:30pm start - vs. Jani Kananen (Finland)
Group Match 3: November 21, 2014 3:00pm start - vs. Keishin Kamihashi (Japan)
Group Match 4: November 22, 2014 10:00am start - vs. Michael Judge (Ireland)
Group Match 5: November 24, 2014 12:30pm start - vs. Lee Chun Wai (Hong Kong)
Group Match 6: November 25, 2014 12:30pm start - vs. Mohd Reza Hassan (Malaysia)
SnookerUSA.com will report on all of Prabhakar's match results, though a complete list of the Group draws and results from each of the events is available on the official scoring website:
» Men's Event
» Ladies' Event
» Masters' Event