Prabhakar finds form to secure first win
filed on Thursday, November 20, 2014. 8:36am PT/USA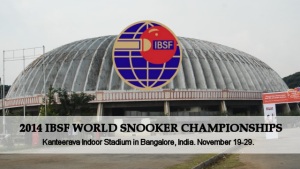 After a disappointing performance on the first day of play at the 2014 International Billiards & Snooker Federation (IBSF) World Snooker Championships, the reigning United States National Snooker Champion, Ajeya Prabhakar, found some good form for his second group match in the Men's Event as he recorded a convincing victory at the Kanteerava Indoor Stadium in Bangalore, India.
Prabhakar commented that he was still feeling the jet lag during his first match loss to Rupesh Shah, but he started in magnificent fashion in his next Group J tie against Finland's Jani Kananen.
The Californian hit a break of 62 to win the first frame, and he continued to pocket the balls in frame two of which he sealed with a run of 50.
Prabhakar then proceeded to reel off the following two frames without too much trouble to record an excellent 4-0 win which will make him feel much better, and give him the much needed confidence he requires for his remaining four group matches.
Prabhakar's next Group J match will be at 3pm local time tomorrow against the Japanese player, Keishin Kamihashi.
Prabhakar's playing schedule and results (start times are stated in local time, +13:30hrs PT in the United States):
Group Match 1: November 19, 2014 - lost to Rupesh Shah (India) 4-2
Group Match 2: November 20, 2014 - def. Jani Kananen (Finland) 4-0
Group Match 3: November 21, 2014 3:00pm start - vs. Keishin Kamihashi (Japan)
Group Match 4: November 22, 2014 10:00am start - vs. Michael Judge (Ireland)
Group Match 5: November 24, 2014 12:30pm start - vs. Lee Chun Wai (Hong Kong)
Group Match 6: November 25, 2014 12:30pm start - vs. Mohd Reza Hassan (Malaysia)
SnookerUSA.com will report on all of Prabhakar's match results, though a complete list of the Group draws and results from each of the events is available on the official scoring website:
» Men's Event
» Ladies' Event
» Masters' Event