Prabhakar pots his way to second win in Bangalore
filed on Friday, November 21, 2014. 6:01am PT/USA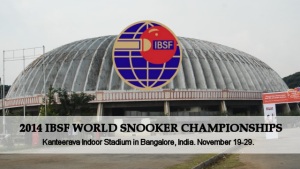 On the third day's play of the 2014 International Billiards & Snooker Federation (IBSF) World Snooker Championships, the United States' Ajeya Prabhakar has kept his hopes of qualification from Group J in the Men's Event firmly alive as he recorded his second win from three matches played at the Kanteerava Indoor Stadium in Bangalore, India.
Prabhakar was up against the teenage player from Japan, Keishin Kamihashi, in a must win match, but he started very poorly as he lost the first frame on the final colored balls.
Frame two however was comprehensively taken by Prabhakar and he then went into the lead at 2-1 when he won a very high-scoring third frame which finished 86-67.
The reigning United States National Snooker Champion then went onto seal the match by securing the following two hard fought frames for a 4-1 victory, and will now need to win at least one more of his remaining three Group J ties to advance into the round of 64.
Prabhakar's next Group J match will be at 10am local time tomorrow against Irishman Michael Judge, who no doubt will prove to be a very tough opponent having reached a career high ranking of 24 as a professional player.
Prabhakar's playing schedule and results (start times are stated in local time, +13:30hrs PT in the United States):
Group Match 1: November 19, 2014 - lost to Rupesh Shah (India) 4-2
Group Match 2: November 20, 2014 - def. Jani Kananen (Finland) 4-0
Group Match 3: November 21, 2014 - def. Keishin Kamihashi (Japan) 4-1
Group Match 4: November 22, 2014 10:00am start - vs. Michael Judge (Ireland)
Group Match 5: November 24, 2014 12:30pm start - vs. Lee Chun Wai (Hong Kong)
Group Match 6: November 25, 2014 12:30pm start - vs. Mohd Reza Hassan (Malaysia)
SnookerUSA.com will report on all of Prabhakar's match results, though a complete list of the Group draws and results from each of the events is available on the official scoring website:
» Men's Event
» Ladies' Event
» Masters' Event