Disappointed Prabhakar sent down by Judge
filed on Saturday, November 22, 2014. 5:14am PT/USA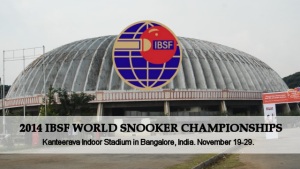 Michael Judge left Ajeya Prabhakar disappointed on the fourth day's play of the 2014 International Billiards & Snooker Federation (IBSF) World Snooker Championships, as the Irishman comprehensively defeated the reigning United States National Snooker Champion in the Men's Event at the Kanteerava Indoor Stadium in Bangalore, India.
It was always going to be a very tough task for the Californian, given that his opponent climbed to a career high ranking of 24 as a professional player and his class showed.
Prabhakar certainly had his chances in the first two frames but could not capitalize on the opportunities he was given, and he went down to a 2-0 deficit.
Judge played some top match snooker in the following two frames, as he hit breaks of 65 and 64 respectively to claim frames three and four to wrap up a 4-0 victory.
Prabhakar commented after the match: "Had an awful outing with a combination of me playing badly and no luck whatsoever.
"Much better player than me of course but I should have fought harder."
Prabhakar has a day off Sunday from Group J play, so his next match will be at 12:30pm local time Monday against Hong Kong's Lee Chin Wai, who is currently undefeated in the group.
Prabhakar's playing schedule and results (start times are stated in local time, +13:30hrs PT in the United States):
Group Match 1: November 19, 2014 - lost to Rupesh Shah (India) 4-2
Group Match 2: November 20, 2014 - def. Jani Kananen (Finland) 4-0
Group Match 3: November 21, 2014 - def. Keishin Kamihashi (Japan) 4-1
Group Match 4: November 22, 2014 - lost to Michael Judge (Ireland) 4-0
Group Match 5: November 24, 2014 12:30pm start - vs. Lee Chun Wai (Hong Kong)
Group Match 6: November 25, 2014 12:30pm start - vs. Mohd Reza Hassan (Malaysia)
SnookerUSA.com will report on all of Prabhakar's match results, though a complete list of the Group draws and results from each of the events is available on the official scoring website:
» Men's Event
» Ladies' Event
» Masters' Event