Prabhakar now in the last chance snooker saloon
filed on Monday, November 24, 2014. 8:25am PT/USA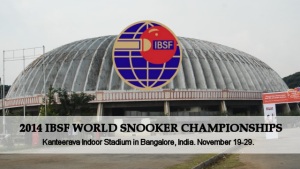 Ajeya Prabhakar has one more chance to advance into the round of 64 of the 2014 International Billiards & Snooker Federation (IBSF) World Snooker Championships, as on the sixth day of competition in the Men's Event at the Kanteerava Indoor Stadium in Bangalore, India, the United States National Snooker Champion lost his penultimate Group J match.
Prabhakar was up against Lee Chun Wai who was top of the group undefeated, so he was always going to be a tough opponent to face for the 43-year-old from San Jose, California.
Lee won the first two frames in a very comfortable fashion, assisted by a break of 66 in frame two, but Prabhakar hit back with a run of 51 in the third frame to trail 2-1.
The 33-year-old from Hong Kong however proved far too strong as with respective breaks of 69 and 58 he took the next two frames to finish off the match a 4-1 winner.
Prabhakar now must win his final match against Malaysia's Mohd Reza Hassan to have any chance of advancing out of the group, and the pair will be fighting it out for that all important fourth place in the group at 12:30pm Tuesday local time.
Prabhakar's playing schedule and results (start times are stated in local time, +13:30hrs PT in the United States):
Group Match 1: November 19, 2014 - lost to Rupesh Shah (India) 4-2
Group Match 2: November 20, 2014 - def. Jani Kananen (Finland) 4-0
Group Match 3: November 21, 2014 - def. Keishin Kamihashi (Japan) 4-1
Group Match 4: November 22, 2014 - lost to Michael Judge (Ireland) 4-0
Group Match 5: November 24, 2014 - lost to Lee Chun Wai (Hong Kong) 4-1
Group Match 6: November 25, 2014 12:30pm start - vs. Mohd Reza Hassan (Malaysia)
SnookerUSA.com will report on all of Prabhakar's match results, though a complete list of the Group draws and results from each of the events is available on the official scoring website:
» Men's Event
» Ladies' Event
» Masters' Event