Prabhakar eliminated after disappointing final group performance
filed on Tuesday, November 25, 2014. 5:39am PT/USA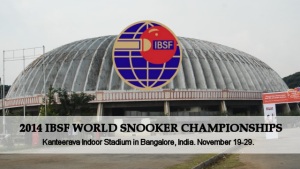 Having been required to win his final Group J match to qualify from the group, Ajeya Prabhakar has suffered another loss which means the reigning United States National Snooker Champion has been eliminated from the Men's Event of the 2014 International Billiards & Snooker Federation (IBSF) World Snooker Championships on the seventh day of competition at the Kanteerava Indoor Stadium in Bangalore, India.
Prabhakar faced Mohd Reza Hassan with the winner gaining that all important fourth place qualifying spot to advance into the round of 64, so it was essential that he could get off to the best start possible but it was not meant to be.
The first two frames were closely fought tight affairs which both went down to the final couple of balls, but it was the 33-year-old Malaysian who managed to pinch the frames much to great disappointment for Prabhakar as he had his chances.
It appeared Prabhakar had lost his fight in the match from then on, as his opponent easily took the following two frames to win the match 4-0 and go through to the elimination stage of the competition.
Prabhakar finished fifth in the group out of seven players, and so will shortly be returning to his home in San Jose, California. He remarked after the match: "Strange game for me! Really disappointing that I could not qualify... lost to really good players therefore need to do better next time."
Prabhakar's results:
Group Match 1: November 19, 2014 - lost to Rupesh Shah (India) 4-2
Group Match 2: November 20, 2014 - def. Jani Kananen (Finland) 4-0
Group Match 3: November 21, 2014 - def. Keishin Kamihashi (Japan) 4-1
Group Match 4: November 22, 2014 - lost to Michael Judge (Ireland) 4-0
Group Match 5: November 24, 2014 - lost to Lee Chun Wai (Hong Kong) 4-1
Group Match 6: November 25, 2014 - lost to Mohd Reza Hassan (Malaysia) 4-0
A complete list of the Group draws and results from each of the events is available on the official scoring website:
» Men's Event
» Ladies' Event
» Masters' Event