Success for the U.S. on the first day's play in Egypt
filed on Tuesday, November 10, 2015. 11:12am PT/USA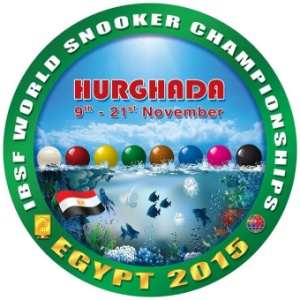 United States players Ahmed Aly Elsayed and Rezk Atta have got their respective campaigns at the 2015 International Billiards & Snooker Federation (IBSF) World Snooker Championships off to a successful start, as both players chalked up victories on the first day of play in Hurghada, Egypt.
Aly faced Haitham Shikh Khalil of Syria in his first group match, and he scored a very straightforward 4-0 victory with very few problems. He later remarked that he played "Very well!"
The second match for the 35-year-old from Brooklyn, New York, will be against home player Mohamed Youssef, and will break-off tomorrow November 11 at 12:30pm local time (2:30am Pacific Time / 5:30am Eastern Time in the United States).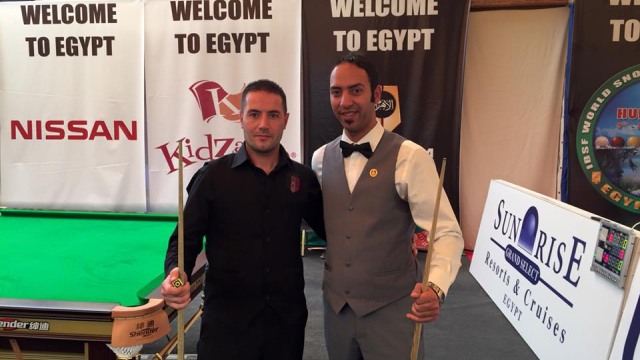 Atta was also in fine form when he came up against Bouchamaoui Ghazi in the Masters' Event, as he won a very high-scoring first frame only for the Syrian to hit back by winning frame two. From then on however the 47-year-old from New Jersey comfortably won the following two frames for a 3-1 victory.
The second Group R match for Atta will be against the former professional player Wayne Brown from England, and will commence tomorrow November 11 at 3pm local time (5am Pacific Time / 8am Eastern Time in the United States).
Aly's Men's Event playing schedule and results:
(start times are stated in local time, +10 hrs PT in the United States)
Group G Match 1: November 10, 2015 12:30pm start - def. Haitham Shikh Khalil (Syria) 4 - 0
Group G Match 2: November 11, 2015 12:30pm start - vs. Mohamed Youssef (Egypt)
Group G Match 3: November 12, 2015 12:30pm start - vs. Karam Fatima (Syria)
Group G Match 4: November 13, 2015 5:30pm start - vs. Daniel Mily (Czech Republic)
Group G Match 5: November 14, 2015 8pm start - vs. Richard Halliday (South Africa)
Atta's Masters' Event playing schedule and results:
(start times are stated in local time, +10 hrs PT in the United States)
Group R Match 1: November 10, 2015 5:30pm start - def. Bouchamaoui Ghazi (Tunisia) 3 - 1
Group R Match 2: November 11, 2015 3pm start - vs. Wayne Brown (England)
Group R Match 3: November 14, 2015 3pm start - vs. Joy Mehra (India)
Group R Match 4: November 15, 2015 5:30pm start - vs. Wael Talaat (Egypt)
SnookerUSA.com will report on all of the United States players' match results, though a complete list of the Group draws and results from each of the events is available on the official scoring website:
» Men's Event » Ladies' Event » Masters' Event