American disappointments on day two in Egypt
filed on Wednesday, November 11, 2015. 9:05am PT/USA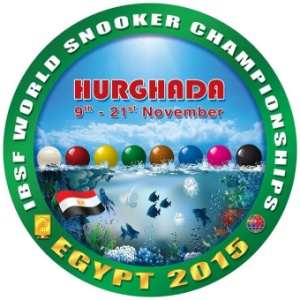 After a fantastic first day's play for the United States at the 2015 International Billiards & Snooker Federation (IBSF) World Snooker Championships, both Ahmed Aly Elsayed and Rezk Atta were brought back down to Earth on day two of the Championships in Hurghada, Egypt.
Aly will be deeply disappointed with his performance after he played so well in his first Group G match in the Men's Event, as he would have gone into his second tie full of confidence against Mohamed Youssef and he initially had the upper-hand as he won the first frame on the final black ball.
His 32-year-old Egyptian opponent however hit back with a break of 53 in frame two, but Aly restored his lead as he comprehensively took the next frame.
It all then went wrong for this year's United States National Snooker Championship runner-up, as he failed to make any meaningful impact on the match to lose the following three frames for a 4-2 defeat.
In his third group match, Aly will take on Karam Fatima of Syria and the tie will get underway tomorrow November 12 at 12:30pm local time (2:30am Pacific Time / 5:30am Eastern Time in the United States).
Today's task was always going to be a difficult one for Atta, as he came up against the former professional player Wayne Brown in his second Group R match in the Masters' Event, and it certainly proved that way.
A run of 57 helped secure the first frame for the 46-year-old Englishman, and then he fired in a break of 109 to win frame two. He quickly went on to wrap up the next frame to claim a comfortable 3-0 victory.
Atta now has a few days off before he comes back to the match table, as his third Group R match against Joy Mehra of India is scheduled for November 14, and that will commence at 3pm local time (5am Pacific Time / 8am Eastern Time in the United States).
Aly's Men's Event playing schedule and results:
(start times are stated in local time, +10 hrs PT in the United States)
Group G Match 1: November 10, 2015 12:30pm start - def. Haitham Shikh Khalil (Syria) 4 - 0
Group G Match 2: November 11, 2015 12:30pm start - lost to Mohamed Youssef (Egypt) 2 - 4
Group G Match 3: November 12, 2015 12:30pm start - vs. Karam Fatima (Syria)
Group G Match 4: November 13, 2015 5:30pm start - vs. Daniel Mily (Czech Republic)
Group G Match 5: November 14, 2015 8pm start - vs. Richard Halliday (South Africa)
Atta's Masters' Event playing schedule and results:
(start times are stated in local time, +10 hrs PT in the United States)
Group R Match 1: November 10, 2015 5:30pm start - def. Bouchamaoui Ghazi (Tunisia) 3 - 1
Group R Match 2: November 11, 2015 3pm start - lost to Wayne Brown (England) 0 - 3
Group R Match 3: November 14, 2015 3pm start - vs. Joy Mehra (India)
Group R Match 4: November 15, 2015 5:30pm start - vs. Wael Talaat (Egypt)
SnookerUSA.com will report on all of the United States players' match results, though a complete list of the Group draws and results from each of the events is available on the official scoring website:
» Men's Event » Ladies' Event » Masters' Event