Aly suffers disheartening second defeat in Egypt
filed on Thursday, November 12, 2015. 8:43am PT/USA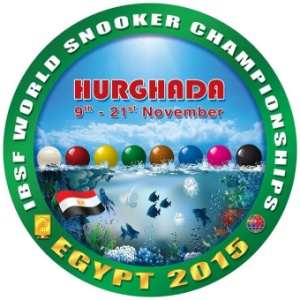 A disheartening narrow second defeat for the United States' Ahmed Aly Elsayed on day three of the 2015 International Billiards & Snooker Federation (IBSF) World Snooker Championships in Hurghada, Egypt, means there is now no margin for error in his quest to progress from Group G in the Men's Event.
With one win from two group matches, Aly faced the possible favorite to win the group, Karam Fatima, and his undefeated opponent got off to a very strong start.
The 26-year-old Syrian raced away with the first two frames with respective breaks of 46 and 63, however Aly battled away to claim frame three on the final colored balls.
Fatima was then on the hill as he secured a very closely contested fourth frame, and at that point he probably was not expecting a fighting comeback from the 35-year-old Egyptian born American.
Aly struck back in perfect fashion as he comprehensively outplayed his opponent in both frames five and six to set up a final frame shoot-out, but he just could not continue with the excellent momentum he built-up as Fatima won the final frame, assisted by a run of 53, to win the match 4-3.
To guarantee his qualification into the elimination phase of the event, Aly now must win his final two group matches. His next opponent will be Daniel Mily of the Czech Republic, and that crucial tie will commence tomorrow November 13 at 5:30pm local time (7:30am Pacific Time / 10:30am Eastern Time in the United States).
Aly's Men's Event playing schedule and results:
(start times are stated in local time, +10 hrs PT in the United States)
Group G Match 1: November 10, 2015 12:30pm start - def. Haitham Shikh Khalil (Syria) 4 - 0
Group G Match 2: November 11, 2015 12:30pm start - lost to Mohamed Youssef (Egypt) 2 - 4
Group G Match 3: November 12, 2015 12:30pm start - lost to Karam Fatima (Syria) 3 - 4
Group G Match 4: November 13, 2015 5:30pm start - vs. Daniel Mily (Czech Republic)
Group G Match 5: November 14, 2015 8pm start - vs. Richard Halliday (South Africa)
Atta's Masters' Event playing schedule and results:
(start times are stated in local time, +10 hrs PT in the United States)
Group R Match 1: November 10, 2015 5:30pm start - def. Bouchamaoui Ghazi (Tunisia) 3 - 1
Group R Match 2: November 11, 2015 3pm start - lost to Wayne Brown (England) 0 - 3
Group R Match 3: November 14, 2015 3pm start - vs. Joy Mehra (India)
Group R Match 4: November 15, 2015 5:30pm start - vs. Wael Talaat (Egypt)
SnookerUSA.com will report on all of the United States players' match results, though a complete list of the Group draws and results from each of the events is available on the official scoring website:
» Men's Event » Ladies' Event » Masters' Event