Aly win keeps IBSF qualification alive
filed on Friday, November 13, 2015. 12:39pm PT/USA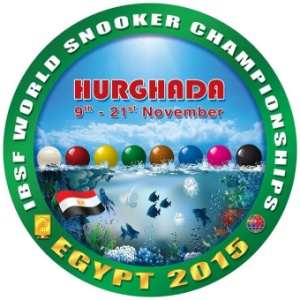 Ahmed Aly Elsayed has kept his hopes alive of qualifying from Group G of the Men's Event of the 2015 International Billiards & Snooker Federation (IBSF) World Snooker Championships, as the former three-time United States National Snooker Champion battled out a second win on the fourth day's play in Hurghada, Egypt.
It was essential for Aly to gain a victory over Daniel Mily, who had been defeated in all three of his previous matches, to have had any prospect of advancing into the single-elimination rounds, and although it was a long hard fought tussle against the player from the Czech Republic, he nevertheless came through.
When the 35-year-old from Brooklyn, New York, easily took the first frame he probably thought he was in for a comfortable win given his opponent's previous results, but it certainly did not turn out that way as Mily went on to capture the following two frames for a 2-1 advantage.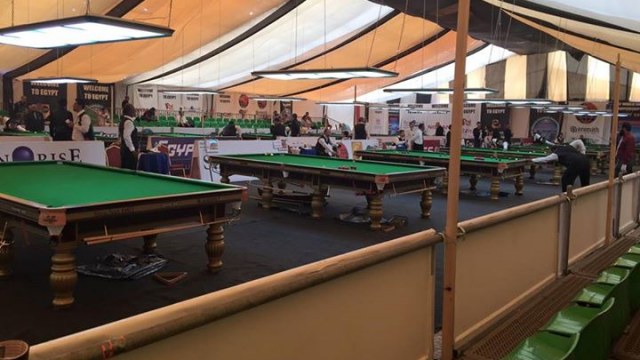 The pressure would have firmly been on Aly now as his Championship hopes stood in the balance, but he won frame four which went right down to the wire and he gave himself some breathing space as he comfortably secured the fifth frame.
However the pressure was right back on Aly as he failed to win a final black ball frame six, but in a very tense final frame he held his nerve to clinch the match on the final colored balls and wrap up a crucial 4-3 victory.
Aly's final group match will be against Richard Halliday of South Africa and will commence tomorrow November 14 at 8pm local time (10am Pacific Time / 1pm Eastern Time in the United States). The winner of this tie will be guaranteed qualification, however the loser may also feature in the single-elimination phase should other group results go their way.
The United States' Rezk Atta will be back in Masters' Event action tomorrow November 14, as he will play his third Group R match against Joy Mehra of India which will get underway at 3pm local time (5am Pacific Time / 8am Eastern Time in the United States).
Aly's Men's Event playing schedule and results:
(start times are stated in local time, +10 hrs PT in the United States)
Group G Match 1: November 10, 2015 12:30pm start - def. Haitham Shikh Khalil (Syria) 4 - 0
Group G Match 2: November 11, 2015 12:30pm start - lost to Mohamed Youssef (Egypt) 2 - 4
Group G Match 3: November 12, 2015 12:30pm start - lost to Karam Fatima (Syria) 3 - 4
Group G Match 4: November 13, 2015 5:30pm start - def. Daniel Mily (Czech Republic) 4 - 3
Group G Match 5: November 14, 2015 8pm start - vs. Richard Halliday (South Africa)
Atta's Masters' Event playing schedule and results:
(start times are stated in local time, +10 hrs PT in the United States)
Group R Match 1: November 10, 2015 5:30pm start - def. Bouchamaoui Ghazi (Tunisia) 3 - 1
Group R Match 2: November 11, 2015 3pm start - lost to Wayne Brown (England) 0 - 3
Group R Match 3: November 14, 2015 3pm start - vs. Joy Mehra (India)
Group R Match 4: November 15, 2015 5:30pm start - vs. Wael Talaat (Egypt)
SnookerUSA.com will report on all of the United States players' match results, though a complete list of the Group draws and results from each of the events is available on the official scoring website:
» Men's Event » Ladies' Event » Masters' Event