Aly advances despite third group defeat
filed on Saturday, November 14, 2015. 12:58pm PT/USA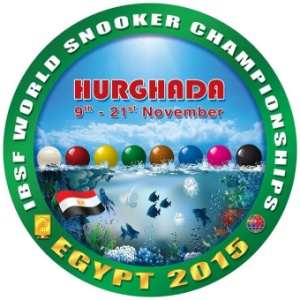 Despite going down to a third group defeat in the Men's Event on the fifth day's play of the 2015 International Billiards & Snooker Federation (IBSF) World Snooker Championships, the United States' Ahmed Aly Elsayed has qualified in fourth place from Group G in Hurghada, Egypt.
In the final round of matches to conclude the group, Aly faced Richard Halliday, who had won two of his previous four group matches, and both players proved to be very evenly matched in this hard fought encounter between the two.
The 25-year-old South African got off to a flying start as he comprehensively took the first frame, though Aly won the next frame after his opponent fouled on the final black ball.
Aly then built up a very healthy lead in the following frame, only to let it slip away and Halliday captured it on the final black ball to hold a 2-1 advantage.
The third frame in-a-row produced another final black ball finish, and the high scoring affair again went to Halliday but Aly countered with a comfortable win of frame five to trail 3-2.
The 35-year-old from Brooklyn, New York, was then ahead in the sixth frame, but yet again Halliday stepped in to pinch the frame and match on the final black ball for a 4-2 victory and claim second place in the group.
Group G was won by Karam Fatima of Syria who won all five of his matches, and third place went to home player Mohamed Youssef who suffered a surprising defeat in his final match by the Czech Republic's Daniel Mily, who finished bottom of the group.
Aly has qualified from the group in fourth place and will advance into the single elimination round of 88 which will take place on Monday, November 16. The draw for the single elimination phase of the event will take place on the conclusion of all the group matches tomorrow November 15.
Rezk Atta was back in action for the United States, though after succumbing to a 3-1 defeat at the hands of India's Joy Mehra, the 47-year-old from New Jersey is on the verge of elimination from the Masters' Event and now must win his final Group R match against home player Wael Talaat by a minimum margin of 3-1 to have any chance of progressing further in the event.
The tie with Talaat will commence tomorrow November 15 at 5:30pm local time (7:30am Pacific Time / 10:30am Eastern Time in the United States).
Aly's Men's Event playing schedule and results:
(start times are stated in local time, +10 hrs PT in the United States)
Group G Match 1: November 10, 2015 12:30pm start - def. Haitham Shikh Khalil (Syria) 4 - 0
Group G Match 2: November 11, 2015 12:30pm start - lost to Mohamed Youssef (Egypt) 2 - 4
Group G Match 3: November 12, 2015 12:30pm start - lost to Karam Fatima (Syria) 3 - 4
Group G Match 4: November 13, 2015 5:30pm start - def. Daniel Mily (Czech Republic) 4 - 3
Group G Match 5: November 14, 2015 8pm start - lost to Richard Halliday (South Africa) 2 - 4
Round of 88 Match: November 16, 2015 start time and opponent to be announced
Atta's Masters' Event playing schedule and results:
(start times are stated in local time, +10 hrs PT in the United States)
Group R Match 1: November 10, 2015 5:30pm start - def. Bouchamaoui Ghazi (Tunisia) 3 - 1
Group R Match 2: November 11, 2015 3pm start - lost to Wayne Brown (England) 0 - 3
Group R Match 3: November 14, 2015 3pm start - lost to Joy Mehra (India) 1 - 3
Group R Match 4: November 15, 2015 5:30pm start - vs. Wael Talaat (Egypt)
SnookerUSA.com will report on all of the United States players' match results, though a complete list of the Group draws and results from each of the events is available on the official scoring website:
» Men's Event » Ladies' Event » Masters' Event