2016 United States National Snooker Championship entry
filed on Wednesday, March 9, 2016. 4:17pm PT/USA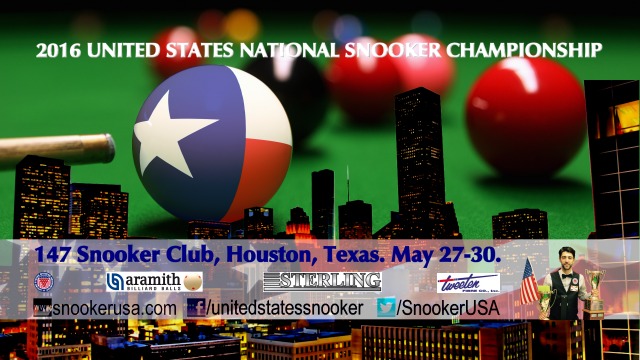 The United States Snooker Association (USSA) has published the Championship Entry document for players wishing to participate in the 2016 United States National Snooker Championship, which will be hosted by the 147 Snooker Club in Houston, Texas, from May 27-30.
Interested eligible participants may now download the Championship Entry Document by clicking the following link:
» Download the Championship Entry Document (PDF format)
The winner of the Championship will be crowned the 2016 United States National Snooker Champion, and alongside the runner-up will gain automatic selection to represent the United States at the 2016 International Billiards & Snooker Federation (IBSF) World Snooker Championships (dates and venue yet to be announced by the IBSF), and to conform with IBSF representation rules the Championship is only open to U.S. citizens.
All of the important and necessary entry rules and details are contained in the document which entrants are advised to carefully read, however interested participants should feel free to contact the USSA if they have any further questions.
The Players' Meeting and Championship draw will be conducted from 8pm at the 147 Snooker Club on the evening prior to the commencement of the Championship.
The Championship will be played using an initial Group phase, with each group containing one seeded player based on performances in the previous three Championships, with all other players drawn at random. The qualifying placed players from each Group will then advance into the single elimination Knockout phase.
Entries may only be made via the Entry Form on the SnookerUSA.com website, which can be found at the address contained in the Entry Document. The closing date for entries is by the end of Tuesday, May 24.
The USSA along with Mr. Syed Hassan, the proprietor of the 147 Snooker Club, look forward to welcoming all players and spectators to what promises to be yet another wonderful annual festival of snooker.