Isaac leads the seed's semifinal charge
filed on Sunday, May 29, 2016. 6:13pm PT/USA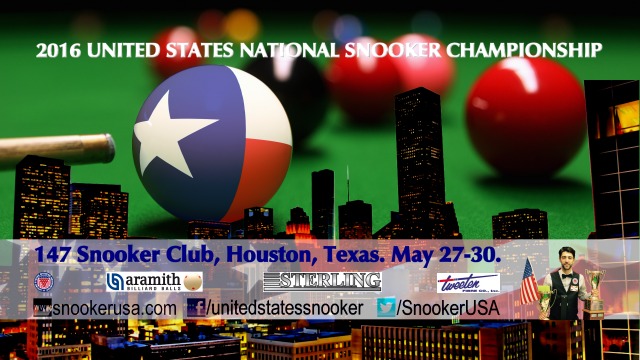 The defending champion Sargon Isaac leads the way as all four seeded players book their place in the semifinals of the 2016 United States National Snooker Championship which commence tomorrow Memorial Day Monday morning at the 147 Snooker Club in Houston, Texas.
The number one seed came up against Cheang Ciing Yoo, appearing in his second successive Championship quarterfinal, and while the player from Washington state lost narrowly 4-3 last year, this year was a different story as the 30-year-old from California took immediate control of the tie to secure his semifinal berth 4-0, compiling a top run of 54 in frame three.
Isaac's semifinal opponent will be Raymond Fung, the number four seed from Brooklyn, New York, in what should prove to be a fascinating encounter between the pair. The twice Championship runner-up was in fine form during his quarterfinal against Kevin Wong, who made it this far for the third year running but yet again fell short as Fung proceeded to reel off four straight frames for victory.
The second semifinal will feature the number two seed Ajeya Prabhakar who got off to a shaky start in his quarterfinal with Laszlo Kovacs. The player from New York took a surprise lead as he decisively won the first frame helped with a break of 36, and although Prabhakar immediately struck back in the following frame, the Californian then found himself 2-1 behind.
The fourth frame proved very pivotal in the match as Prabhakar snatched it on the final black ball to level at 2-2, and then he moved in front for the first time by securing the fifth frame on the final colored balls. The twice former champion would be very mindful that he could have lost this match as he sealed the following frame for a 4-2 win.
Prabhakar has now set-up a repeat of last year's semifinal against Ahmed Aly Elsayed in which he went on to lose 4-3, as despite dropping the first frame, the former three-times champion from Brooklyn, New York, comfortably came through his quarterfinal against New Jersey's Rizwan Khan 4-1.
The semifinals will commence at 11am local Central Time and will be played over the best-of-7 frames, with the final starting no earlier than 3pm local Central Time.
The Quarterfinal results as follows:

Quarterfinals
(Best-of-7 frames)
Match ID
Player
Player
QF1
Sargon Isaac (California) 1
4 - 0
Cheang Ciing Yoo (Washington)
QF2
Raymond Fung (New York) 4
4 - 0
Kevin Wong (New York)
QF3
Ajeya Prabhakar (California) 2
4 - 2
Laszlo Kovacs (New York)
QF4
Ahmed Aly Elsayed (New York) 3
4 - 1
Rizwan Khan (New Jersey)
Semifinals draw as follows:

Semifinals
(Best-of-7 frames)
Match ID
Player
Player
SF1
Sargon Isaac (California) 1
vs.
Raymond Fung (New York) 4
SF2
Ajeya Prabhakar (California) 2
vs.
Ahmed Aly Elsayed (New York) 3
Full coverage of the Championship will continue here on SnookerUSA.com.