Aly seeks American success at IBSF World 6-Red Snooker
filed on Wednesday, July 20, 2016. 7:50am PT/USA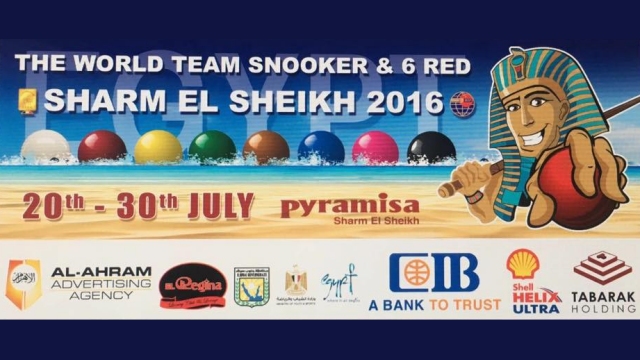 The three-time former United States National Snooker Champion, Ahmed Aly Elsayed, will be the sole representative for the United States in the Men's Event of this year's International Billiards & Snooker Federation (IBSF) World 6-Red Snooker Championships, when they get underway today until July 30 at the Pyramisa Hotel & Resort in Sharm el-Sheikh, Egypt.
The 6-Red Championships will also be played in conjunction with the IBSF World Team Snooker Championships of which the United States did not enter, but the United States Snooker Association is very pleased that Aly, the runner-up in this year's United States National Snooker Championship back in May, was very eager to travel to the country of his birth to proudly represent the United States.
6-red snooker has gained a lot of popularity around the world since it was introduced as a shorter version of the standard 15-red game, with the same rules except that there can be no more than five consecutive "Foul and a Miss" calls, and a player is not permitted to play a snooker behind a nominated colored ball.
In the Men's Event of the 6-red Championship there are 32 groups of players with the top three placed players from each group advancing into the single elimination knockout rounds of the event, with each of the group matches being contested over the best-of-7 frames (race to 4 frames).
Aly's Group J Men's Event playing schedule:
(start times are stated in local time, +9 hrs PT in the United States)
Match 1: July 20, 5:00pm start - vs. Mohd Reza Hassan (Malaysia)
Match 2: July 23, 5:00pm start - vs. Mohamed Ibrahim (Egypt)
Match 3: July 25, 12:30pm start - vs. Lin Tang Ho (Hong Kong)
Match 4: July 25, 5:00pm start - vs. Ali Hussein (Iraq)
SnookerUSA.com will report on all of Aly's match results, though a complete list of the Group draws and results from the Men's Event is available on the official scoring website:
» Men's Event