Tough opening day's play for American players in Doha
filed on Saturday, November 19, 2016. 2:11pm PT/USA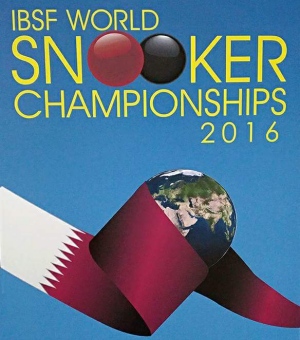 American players found the going tough on the first official day's play of the 2016 International Billiards & Snooker Federation (IBSF) World Snooker Championships at the Al-Sadd Sports Club Stadium in Doha, Qatar.
Amitabh Seth had the honor of playing in the very first session of the Championships, and he was up against Mohammed Al Joaker, one of the best players to come out of United Arab Emirates, and his class showed against the inexperienced American who failed to make any impact as Al Joaker produced breaks of 40 and 60 on the way to a comfortable 3-0 win.
Seth will also be in action tomorrow, November 20, as he will face Ireland's Shane Gorman at 4pm local time (5am Pacific Time / 8am Eastern Time in the United States).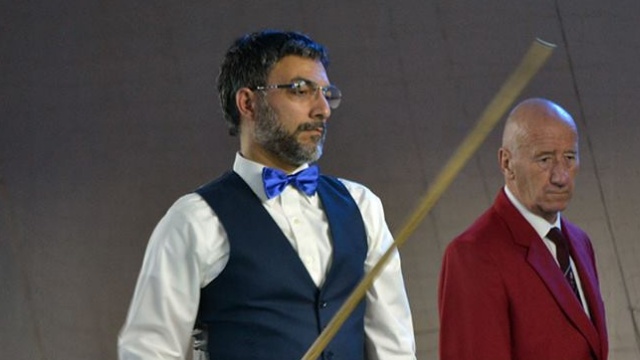 Jeff Szafransky has been a regular competitor for the United States over the past decade, but he too also found it tough going in his Masters' Event Group C tie against India's Rupesh Shah, who compiled runs of 40 and 69 in completing his 3-0 success.
Szafransky will also next take to the table tomorrow, November 20, when at 4pm local time his next opponent will be Belgium's Johny Moermans.
In the Men's Event, Ahmed Aly Elsayed and Ajeya Prabhakar were not action, so the spotlight fell on New York's Laszlo Kovacs who had the difficult prospect of Keen Hoo Moh, the former professional player from Malaysia, in Group S.
Moh's ability shone through as the former Asian Under-21 Snooker Champion raced away with the first two frames, assisted by a break of 70 in frame one. However, Kovacs then did himself proud by only narrowly losing the third frame on the final colored balls, and he went down to a 4-0 defeat by losing a frame four black ball game.
South Korea's Daegyu Lee will be Kovac's next opponent, and that tie will commence on November 22 at 1pm (2am Pacific Time / 5am Eastern Time in the United States).
Aly's Men's Event playing schedule:
(start times are stated in local time, +11 hrs PT in the United States)
Group I Match 1: November 20, 2016 4pm start - vs. Declan Brennan (Ireland)
Group I Match 2: November 21, 2016 7pm start - vs. Alexander Ursenbacher (Switzerland)
Group I Match 3: November 24, 2016 10am start - vs. Khalil Busaif (Bahrain)
Prabhakar's Men's Event playing schedule:
(start times are stated in local time, +11 hrs PT in the United States)
Group K Match 1: November 20, 2016 4pm start - vs. Sean Corkish (Isle of Man)
Group K Match 2: November 21, 2016 7pm start - vs. Issara Kachaiwong (Thailand)
Group K Match 3: November 23, 2016 10am start - vs. Ahmed Sarhan (Saudi Arabia)
Group K Match 4: November 24, 2016 4pm start - vs. Mohammad Alqraini (Jordan)
Kovacs' Men's Event playing schedule:
(start times are stated in local time, +11 hrs PT in the United States)
Group S Match 1: November 19, 2016 lost to Keen Hoo Moh (Malaysia) 0 - 4
Group S Match 2: November 22, 2016 1pm start - vs. Daegyu Lee (South Korea)
Group S Match 3: November 23, 2016 1pm start - vs. Ivan Kakovsky (Russia)
Group S Match 4: November 24, 2016 4pm start - vs. Wayne Townsend (England)
Seth's Masters' Event playing schedule:
(start times are stated in local time, +11 hrs PT in the United States)
Group B Match 1: November 19, 2016 lost to Mohammed Al Joaker (United Arab Emirates) 0 - 3
Group B Match 2: November 20, 2016 4pm start - vs. Shane Gorman (Ireland)
Group B Match 3: November 21, 2016 7pm start - vs. Jahangir Habibzadehdehkordi (Iran)
Group B Match 4: November 23, 2016 1pm start - vs. Jón Ingi Ćgisson (Iceland)
Group B Match 5: November 24, 2016 7pm start - vs. Andrey Vill (Russia)
Szafransky's Masters' Event Group C playing schedule:
(start times are stated in local time, +11 hrs PT in the United States)
Match 1: November 19, 2016 lost to Rupesh Shah (India) 0 - 3
Match 2: November 20, 2016 4pm start - vs. Johny Moermans (Belgium)
Match 3: November 22, 2016 10am start - vs. Darren Morgan (Wales)
Match 4: November 23, 2016 1pm start - vs. Farhad Sayfoo (Mauritius)
Match 5: November 24, 2016 7pm start - vs. Nasser Bomejdad (Kuwait)
SnookerUSA.com will report on all of the match results, though a complete list of the Group draws and results from each of the events is available on the official scoring website:
» Men's Event » Ladies' Event » Masters' Event