Morgan gives a snooker masterclass to Szafransky
filed on Tuesday, November 22, 2016. 2:06pm PT/USA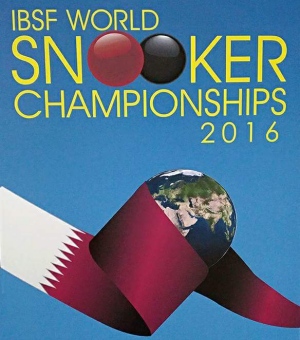 The former World Snooker professional top-16 player Darren Morgan gave the United States' Jeff Szafransky a snooker masterclass during their Group C encounter in the Masters' Event of the 2016 International Billiards & Snooker Federation (IBSF) World Snooker Championships at the Al-Sadd Sports Club Stadium in Doha, Qatar.
The 50-year-old Welshmen, who was a semifinalist in the 1994 World Snooker Championship at the famous Crucible Theatre, only conceded two points in the whole of the match to his opponent from California, as he initially cruised into a 2-0 advantage assisted with breaks of 41, 44 and 47.
It was then in frame three in which the 1987 IBSF World Snooker Champion fired in a tremendous break of 132 to wrap up a comprehensive 3-0 victory.
Szafransky now has two remaining matches in order to try and qualify from the group, with his next match against Farhad Sayfoo of Mauritius getting underway tomorrow, November 23, at 1pm local time (2am Pacific Time / 5am Eastern Time in the United States).
Laszlo Kovacs was the only other American player in action today, as in Group S of the Men's Event he faced Daegyu Lee.
While Kovacs gave the 21-year-old from South Korea something to think about in the first frame as he ran him to the final colored balls, Lee then proceeded to away to a comfortable 4-0 victory.
Kovacs will play his third group match tomorrow, November 23, against Russia's Ivan Kokovsky at 1pm local time.
Aly's Men's Event playing schedule and results:
(start times are stated in local time, +11 hrs PT in the United States)
Group I Match 1: November 20, 2016 lost to Declan Brennan (Ireland) 0 - 4
Group I Match 2: November 21, 2016 lost to Alexander Ursenbacher (Switzerland) 0 - 4
Group I Match 3: November 24, 2016 10am start - vs. Khalil Busaif (Bahrain)
Prabhakar's Men's Event playing schedule and results:
(start times are stated in local time, +11 hrs PT in the United States)
Group K Match 1: November 20, 2016 defeated Sean Corkish (Isle of Man) 4 - 3
Group K Match 2: November 21, 2016 lost to Issara Kachaiwong (Thailand) 1 - 4
Group K Match 3: November 23, 2016 10am start - vs. Ahmed Sarhan (Saudi Arabia)
Group K Match 4: November 24, 2016 4pm start - vs. Mohammad Alqraini (Jordan)
Kovacs' Men's Event playing schedule and results:
(start times are stated in local time, +11 hrs PT in the United States)
Group S Match 1: November 19, 2016 lost to Keen Hoo Moh (Malaysia) 0 - 4
Group S Match 2: November 22, 2016 lost to Daegyu Lee (South Korea) 0 - 4
Group S Match 3: November 23, 2016 1pm start - vs. Ivan Kakovsky (Russia)
Group S Match 4: November 24, 2016 4pm start - vs. Wayne Townsend (England)
Seth's Masters' Event playing schedule and results:
(start times are stated in local time, +11 hrs PT in the United States)
Group B Match 1: November 19, 2016 lost to Mohammed Al Joaker (United Arab Emirates) 0 - 3
Group B Match 2: November 20, 2016 lost to Shane Gorman (Ireland) 0 - 3
Group B Match 3: November 21, 2016 defeated Jahangir Habibzadehdehkordi (Iran) 3 - 2
Group B Match 4: November 23, 2016 1pm start - vs. Jˇn Ingi Ăgisson (Iceland)
Group B Match 5: November 24, 2016 7pm start - vs. Andrey Vill (Russia)
Szafransky's Masters' Event playing schedule and results:
(start times are stated in local time, +11 hrs PT in the United States)
Group C Match 1: November 19, 2016 lost to Rupesh Shah (India) 0 - 3
Group C Match 2: November 20, 2016 lost to Johny Moermans (Belgium) 1 - 3
Group C Match 3: November 22, 2016 lost to Darren Morgan (Wales) 0 - 3
Group C Match 4: November 23, 2016 1pm start - vs. Farhad Sayfoo (Mauritius)
Group C Match 5: November 24, 2016 7pm start - vs. Nasser Bomejdad (Kuwait)
SnookerUSA.com will report on all of the match results, though a complete list of the Group draws and results from each of the events is available on the official scoring website:
╗ Men's Event ╗ Ladies' Event ╗ Masters' Event