Aly and Prabhakar bow out in Doha
filed on Friday, November 25, 2016. 7:57pm PT/USA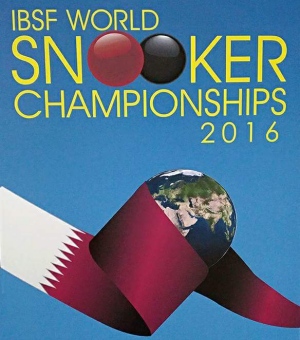 The United States players Ahmed Aly Elsayed and Ajeya Prabhakar say farewell to the 2016 International Billiards & Snooker Federation (IBSF) World Snooker Championships, as both suffer defeats in the knockout stage of the Men's Event at the Al-Sadd Sports Club Stadium in Doha, Qatar.
The three-times former United States Snooker National Snooker Champion Aly advanced from his group into the round of 78 where he matched up against Khaled Alastal.
It was the player from Brooklyn, New York, who made a wonderful start as he went into a very comfortable 2-0 advantage and looked in a good position to book his berth in the round of 64. However the player from Palestine completely turned the tables on Aly as he sealed the following four frames for a 4-2 victory.
Prabhakar, having finished in second place in his group, had already advanced into the round of 64 and was looking for successful outcome over Thomas Dowling for a place in the round of 32.
It was the Irishman though who proved for too strong on this occasion as in the first frame he compiled breaks of 83 and 51. He then took a 3-0 lead before then knocking in a run of 81 in frame four to seal a decisive 4-0 win over his American opponent.
Alan Morris, the Executive Director of the United States Snooker Association (USSA) said: "I would like to thank all of the United States players who went to Doha to represent their country and they should be proud of what they achieved.
"To qualify from your group is a great achievement, so although I feel they will both be dissapointed by their exits, a lot of credit must go to both Ahmed and Ajeya for doing so."
Aly's Men's Event playing schedule and results:
(start times are stated in local time, +11 hrs PT in the United States)
Group I Match 1: November 20, 2016 lost to Declan Brennan (Ireland) 0 - 4
Group I Match 2: November 21, 2016 lost to Alexander Ursenbacher (Switzerland) 0 - 4
Group I Match 3: November 24, 2016 defeated Khalil Busaif (Bahrain) 4 - 0
Round of 78: November 25, 2016 lost to Khaled Alastal (Palestine) 2 - 4
Prabhakar's Men's Event playing schedule and results:
(start times are stated in local time, +11 hrs PT in the United States)
Group K Match 1: November 20, 2016 defeated Sean Corkish (Isle of Man) 4 - 3
Group K Match 2: November 21, 2016 lost to Issara Kachaiwong (Thailand) 1 - 4
Group K Match 3: November 23, 2016 Ahmed Sarhan (Saudi Arabia) withdrawn
Group K Match 4: November 24, 2016 defeated Mohammad Alqraini (Jordan) 4 - 3
Round of 64: November 25, 2016 lost to Thomas Dowling (Ireland) 0 - 4
Kovacs' Men's Event playing schedule and results:
(start times are stated in local time, +11 hrs PT in the United States)
Group S Match 1: November 19, 2016 lost to Keen Hoo Moh (Malaysia) 0 - 4
Group S Match 2: November 22, 2016 lost to Daegyu Lee (South Korea) 0 - 4
Group S Match 3: November 23, 2016 lost to Ivan Kakovsky (Russia) 0 - 4
Group S Match 4: November 24, 2016 walkover Wayne Townsend (England) 4 - 0
Seth's Masters' Event playing schedule and results:
(start times are stated in local time, +11 hrs PT in the United States)
Group B Match 1: November 19, 2016 lost to Mohammed Al Joaker (United Arab Emirates) 0 - 3
Group B Match 2: November 20, 2016 lost to Shane Gorman (Ireland) 0 - 3
Group B Match 3: November 21, 2016 defeated Jahangir Habibzadehdehkordi (Iran) 3 - 2
Group B Match 4: November 23, 2016 lost to Jˇn Ingi Ăgisson (Iceland) 0 - 3
Group B Match 5: November 24, 2016 lost to Andrey Vill (Russia) 1 - 3
Szafransky's Masters' Event playing schedule and results:
(start times are stated in local time, +11 hrs PT in the United States)
Group C Match 1: November 19, 2016 lost to Rupesh Shah (India) 0 - 3
Group C Match 2: November 20, 2016 lost to Johny Moermans (Belgium) 1 - 3
Group C Match 3: November 22, 2016 lost to Darren Morgan (Wales) 0 - 3
Group C Match 4: November 23, 2016 lost to Farhad Sayfoo (Mauritius) 1 - 3
Group C Match 5: November 24, 2016 lost to Nasser Bomejdad (Kuwait) 1 - 3
SnookerUSA.com will report on all of the match results, though a complete list of the Group draws and results from each of the events is available on the official scoring website:
╗ Men's Event ╗ Ladies' Event ╗ Masters' Event