New players make big impact in New York
filed on Saturday, May 27, 2017. 9:01pm PT/USA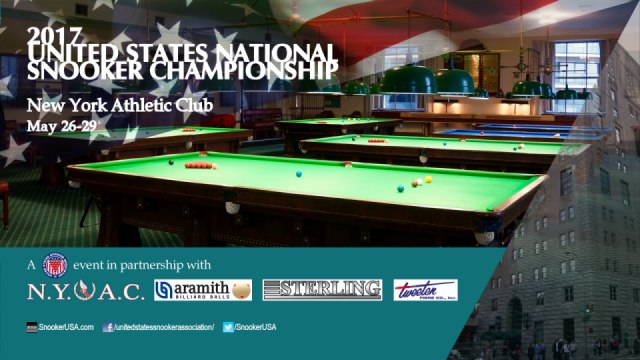 The new influx of players competing in this year's United States National Snooker Championship have made a big impact on the event, as the group phase comes to a close and the round of 16 draw has been made at the New York Athletic Club in Manhattan, New York.
The past two Championships have been dominated by the top four seeded players who have all made the semifinals, however this year's debutant players have shone and caused many problems for the established players to make it by far the most fascinating and competitive round of 16 to ever be played in this Championship.
While the defending champion Sargon Isaac and number four seeded player Raymond Fung performed solidly to top their respective Group A and Group D, the number two seed and former three times Champion Ahmed Aly Elsayed, playing at his home club, and the twice former champion Ajeya Prabhakar have found the going extremely tough.
There have been high hopes placed on number two seed Aly, who is seeking to win the title for the host club and to claim the Championship back that he last won six years ago, but his Group D draw was brutal having to face debutants Renat Denkha and Omar Balsara, two incredibly fine and tough players, who both defeated Aly and secured first and second positions in Group B respectively.
Aly has automatically progressed though to the round of 16 of the Championship as he was one of the top two best third placed players, along with number three seed Prabhakar who finished third in Group C after suffering surprise group defeats to Thomas Kalinowski and also to debutant Wenpei Zhu who topped the group. Li Hua Chen sealed second place in the group with some good performances for his three match victories.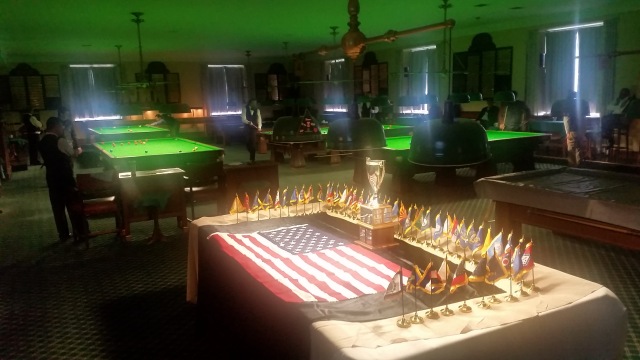 Groups E and F were the unseeded groups though both were fiercely contested.
Laszlo Kovacs, a quarterfinalist in last year's Championship from Astoria, New York, went through the group undefeated for the loss of just one frame, just ahead of New Jersey's Rizwan Khan. NYAC member Louis Pannullo edged through in third place, and then went on to win a playoff match 2-0 against the Group F third placed player, Zachary Ridgway, to advance into the round of 16.
Group F was won by California's Mihai Visovan who did not drop a frame throughout, with runner-up spot going to the NYAC member and very experienced player Terry Dunne, who played some fine snooker to qualify for the round of 16.
The round of 16 draw as follows:

Round of 16
(Best-of-5 frames)
Match ID
Player
Player
R16-1
Sargon Isaac (California) 1
vs.
Ajeya Prabhakar (California) 3
R16-2
Omar Balsara (Virgina)
vs.
Terry Dunne (New York)
R16-3
Raymond Fung (New York) 4
vs.
Mark White (Texas)
R16-4
Laszlo Kovacs (New York)
vs.
Li Hua Chen (New York)
R16-5
Renat Denka (Illinois)
vs.
Louis Pannullo (New York)
R16-6
Ian O'Mahony (New York)
vs.
Rizwan Khan (New Jersey)
R16-7
Wenpei Zhu (New York)
vs.
Ahmed Aly Elsayed (New York) 2
R16-8
Mihai Visovan (California)
vs.
Saif Ibrahim (Michigan)
The winner of the Championship will be crowned the 2017 United States National Snooker Champion, and alongside the runner-up will gain automatic selection to represent the United States at this year's International Billiards & Snooker Federation (IBSF) World Snooker Championships which will take place in fall in Malta.
Full coverage of the 2017 United States National Snooker Championship will continue be here on SnookerUSA.com.