All New York United States snooker final at NYAC
filed on Monday, May 29, 2017. 12:08pm PT/USA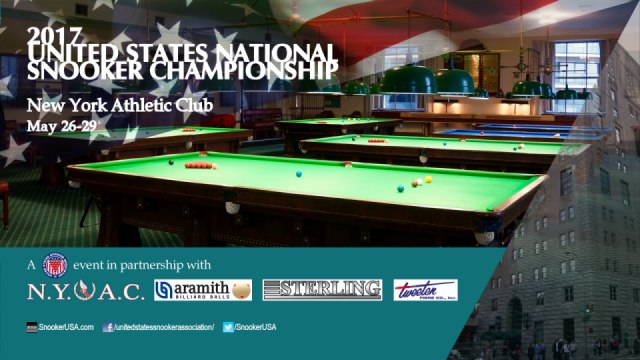 New Yorkers Ahmed Aly Elsayed and Raymond Fung will compete in the final of this year's United States National Snooker Championship, after the pair come through tough semifinal battles at the New York Athletic Club (NYAC) in the heart of Manhattan.
Thirteen years after he finished runner-up in the Championship playoffs at the NYAC, Fung is now one match away from achieving his dream there to pick up that elusive first national title that he has wanted so badly, especially after such a heartbreaking defeat too in the 2014 final in his home borough of Brooklyn.
However Fung has now gained revenge for that 2014 final defeat against the former twice champion Ajeya Prabhakar, even though the Californian initially stormed into a 2-0 advantage which included an fantastic break of 82 in the first frame.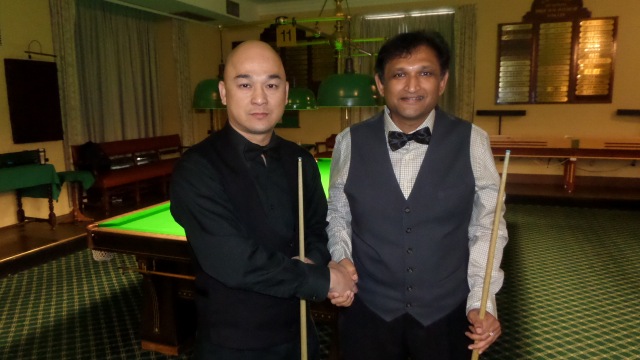 Fung countered with a run of 42 to help secure frame three, but Prabhakar restored his two frame lead after picking up the fourth frame assisted by a break of 31.
Prabhakar though did not feel comfortable after that second frame despite forging that 3-1 lead, and although he did have a great chance to wrap up the tie in the fifth frame, his game had clearly stalled of which Fung took full advantage of by proceeding to take the remaining frames to steal the match 4-3.
The second semifinal was another tense and tight affair that also went down to the final frame.
Aly lost to Renat Denkha in their group encounter so this had all the signs of being a closely hard fought contest, and indeed it proved to be just that.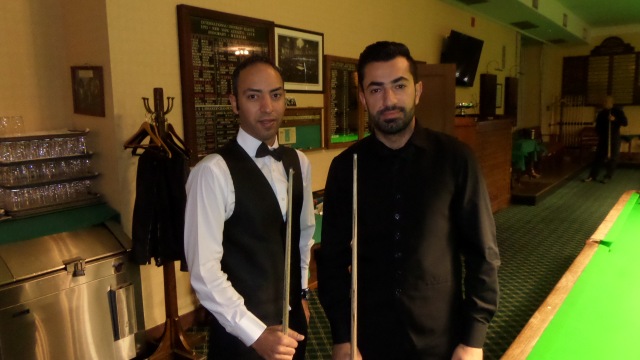 However it looked like it was going to be a walk in the park for Aly when he brilliantly went 3-0 ahead, taking all the three frames very decisively too.
Denkha though stopped the rot with an incredible run of frames himself as he too hit back in a decisive fashion to reel off the following three frames to square the match up at 3-3.
Aly got the better start in the deciding frame and from then on Denkha was always chasing the frame, proving too much of a uphill battle to overcome leaving the former three-times champion to appear in his third final in succession.
The United States Snooker Association (USSA) would like to thank both Jonathan Royalty and Martin Endersby who did an excellent job in refereeing the semifinals.
Due to a slightly late finish to the Aly-Denkha match, the final is now scheduled to commence at 3:15pm local Eastern Time.
The semifinal results as follows:

Semifinals
(Best-of-7 frames)
Match ID
Player
Player
SF1
Ajeya Prabhakar (California) 3
3 - 4
Raymond Fung (New York) 4
SF2
Ahmed Aly Elsayed (New York) 2
4 - 3
Renat Denkha (Illinois)
The final draw as follows:

Final
(Best-of-9 frames)
Match ID
Player
Player
F
Ahmed Aly Elsayed (New York) 2
vs.
Raymond Fung (New York) 4
The winner of the Championship will be crowned the 2017 United States National Snooker Champion, and alongside the runner-up will gain automatic selection to represent the United States at this year's International Billiards & Snooker Federation (IBSF) World Snooker Championships which will take place in fall in Malta.
Full coverage of the 2017 United States National Snooker Championship will continue here on SnookerUSA.com.