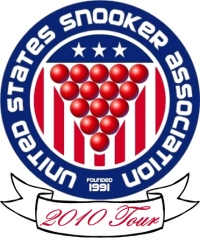 Following on the great success of the inaugural 2009 United States Snooker Association Tour, the United States Snooker Association (USSA) is pleased to announce the schedule and entry details for the 2010 Tour which will be sponsored by two of the leaders in the snooker industry, Aramith Billiard Balls and Strachan West Of England snooker cloth.

The 2010 Tour season will consist of six events played over the first half of the year.

All the billiard and snooker clubs hosting a Tour event have been provided with brand new Aramith Tournament Champion snooker balls, and Strachan West Of England 6811 Tournament snooker cloth to insure the finest playing conditions possible.

The Tour is open to any player worldwide who is not a professional member of the World Snooker Main Tour, however a player must be a member of their respective national snooker governing body — international non-members will be eligible to compete, though will have to pay a $25 USSA affiliation fee in addition to the Tour event entry fee.

2010 United States Snooker Association Tour
Event Schedule
Tour Event 1
Embassy Billiards Club,
San Gabriel, CA.
February 16 - 19
Winner: David Siu
» Tour Event 1 report
Tour Event 2
Prince Snooker Club,
Brooklyn, NY.
February 27 & 28
Winner: Raymond Fung
» Tour Event 2 report
Tour Event 3
California Billiard Club,
Mountain View, CA.
March 13 & 14
Winner: Andrew Barlow
» Tour Event 3 report
Tour Event 4
New York Athletic Club,
New York, NY.
March 20 & 21
Winner: Omar Balsara
» Tour Event 4 report
Tour Event 5
Top 147 Snooker Club,
Brooklyn, NY.
April 10 & 11
Winner: Raymond Fung
» Tour Event 5 report
Tour Event 6
Shoreline Billiards,
Mountain View, CA.
May 8 & 9
Winner: Keith E. Boon
» Tour Event 6 report