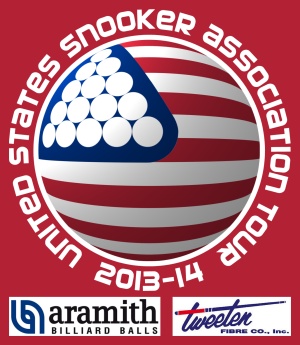 The United States Snooker Association (USSA) is pleased to announce the sixth season of the USSA Tour, with the continued sponsorship of Saluc, who manufacture, Aramith, the world's leading billiard balls, and the Tweeten Fibre Co. who are reknowned to snooker players worldwide as the manufacturer of the very popular Elk Master tips and Triangle Chalk brands.

All the billiard and snooker rooms and clubs hosting a Tour event have been provided with brand new sets of Aramith Tournament Champion snooker balls, in order to insure the finest quality playing snooker balls are used, and a selection of chalk and tips from Tweeten.

The Tour is open to all United States and players worldwide who are not a professional member of the 2013-14 World Snooker Tour, however a player must be a member of their respective recognized IBSF national snooker governing body.

International players who are not a member of their respective IBSF national snooker governing body will however be eligible to compete on the Tour, provided they pay a $10 USSA affiliation fee in addition to the Tour event entry fee.

International players who require visas or permits in order to enter or stay in the United States to compete in a Tour event, must make their own applications. The USSA is not able to support any such applications.

For entry details into each of the USSA Tour events, please download the corresponding PDF file entry flyer. Also please do not hesitate to contact the USSA should you have any further questions.
2013-14 United States Snooker Association Tour
Event Schedule
(Please note: Entry schedule & details are subject to change)
Tour Event 1
Top 147 Snooker Club,
Brooklyn, NY.
December 7 & 8, 2013
Winner: Raymond Fung
» Tour Event 1 report
Tour Event 2
Carom Café Billiards,
Flushing, NY.
January 18 & 19, 2014
Winner: Raymond Fung
» Tour Event 2 report
Tour Event 3
Houston Snooker Club,
Houston, TX.
January 24-26, 2014
Winner: Keith Boon
» Tour Event 3 report
Tour Event 4
Ace Snooker Club,
San Mateo, CA.
March 15 & 16, 2014
Winner: Sargon Isaac
» Tour Event 4 report
Tour Event 5
Champions Snooker,
Houston, TX.
March 28-30, 2014
Winner: Keith Boon
» Tour Event 5 report
Tour Event 6
Top 147 Snooker Club,
Brooklyn, NY.
April 12 & 13, 2014
Winner: Tim Li
» Tour Event 6 report
Tour Event 7
Carom Café Billiards,
Flushing, NY.
April 26 & 27, 2014
Winner: Raymond Fung
» Tour Event 7 report
Tour Event 8
Houston Snooker Club,
Houston, TX.
May 2-4, 2014
Winner: Joey Torres
» Tour Event 8 report